Mark Blietz, owner of Northshore Tropicals in Haʻikū, is the 2020 recipient of the Mālama i ka ʻĀina. The award is given each year to recognize the efforts of individuals in the landscape and agricultural community towards stopping the spread of invasive species in Maui County. The award is presented by the Maui Invasive Species Committee, the Maui Association of Landscape Professionals, and the County of Maui.

Blietz is a well-known nursery owner who has led by example throughout his career, both in the landscaping community and throughout Maui. He and his family have been in the nursery business for over 30 years and throughout that time, he has been active locally in the Maui Orchid Society and nationally as a judge in the American Orchid Society. Blietz has been proactive in dealing with invasive species and urges others to do the same. When the stinging nettle caterpillar arrived to Maui in 2008, he started controlling it around his nursery himself to keep from spreading it – he continues to control invasive species, currently working to keep coqui and ivy gourd out of his nursery.

But it was his generosity over the last year that led to his nomination for the award. The Maui Invasive Species Committee (MISC) needed temporary storage and facilities to keep their crews working after they lost access to the facility they had been in for over a decade. Blietz shared his property and barn, keeping MISC operational until a new baseyard became available. "Mark saved the day for MISC…MISC couldn't have kept working to protect Maui County from invasive species without his help" said Adam Radford, MISC Manager, in acknowledgement of Blietz's efforts.

In accepting the award, Blietz encouraged community action. "There's so much that we, as stewards of the land, can do to protect our ʻāina from invasive species. Simply being able to identify them and letting them [MISC] know" he said.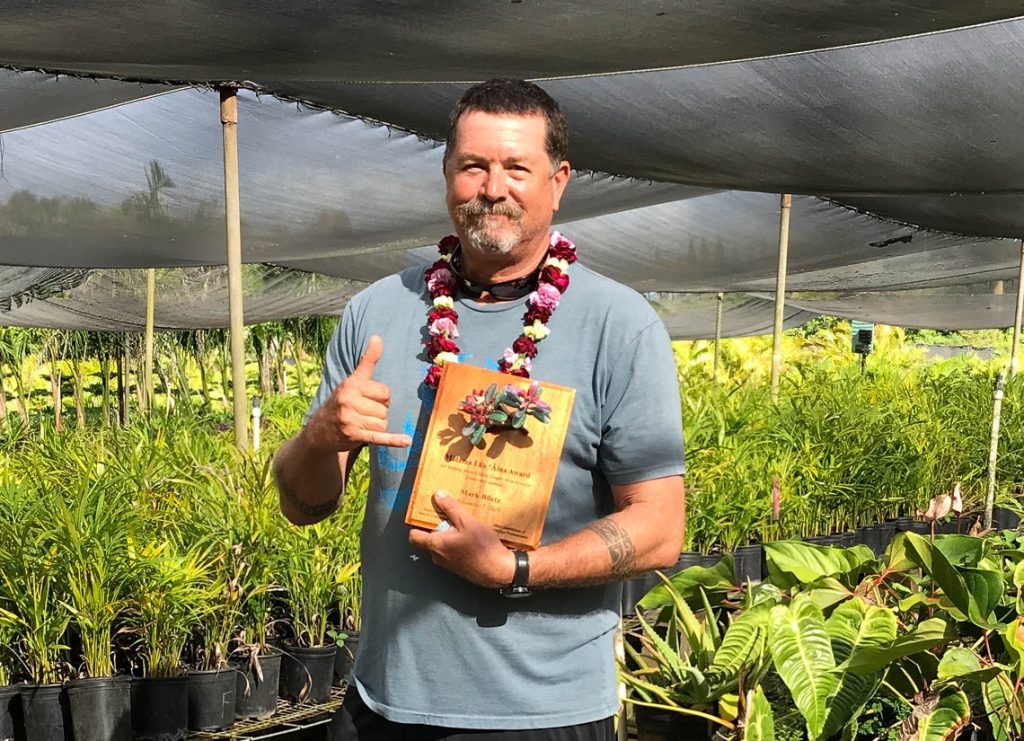 Due to Covid-19, the award was presented In a small, socially distanced award ceremony in Haʻikū. The presenters included Makaleʻa Ane, Resilience Officer with the County of Maui, Allison Wright, President of the Maui Association of Landscape Professionals, and Adam Radford, Manager of the Maui Invasive Species Committee. This year's commemorative plaque featured a sculpture of an ʻiliahi branch (the native sandalwood) by glass artist Jupiter Nielsen.