The Maui Invasive Species Committee (MISC) Community Coqui Control program has created a Discord Server called MISCord: Community Coqui Control and is inviting all participants in the program to join the server. Discord is an instant messaging and digital distribution platform designed for creating communities. Users communicate with voice calls, video calls, text messaging, media, and files in private chats or as part of communities called "servers." Discord can be utilized through a PC or Mac computer and/or by downloading an app to an iPhone or Android smartphone.
The purpose of the Community Coqui Control Discord Server is to facilitate community communication with each other and with MISC to further empower users to control coqui frogs. The MISC Coqui Crew started using Discord during the Covid-19 stay at home order and found it to be an efficient way to communicate and stay connected.
Learn More
The advantage of using the MISCord server rather than phone, texting, or emailing with MISC staff is that the MISCord server can be monitored by more than one MISC staff person on more than one device. It also prevents delays that could happen if the MISC staff person contacted via phone, text, or email is unavailable. The equipment emergency MISCord channel will be the only way to report an equipment emergency outside of normal MISC business hours (8:00 a.m.-4:30 p.m. Monday through Friday).
The MISC Community Coqui Control program provides equipment, powdered anhydrous citric acid, pre-mix 14% citric acid solution, and training to participants in the Community Coqui Control program. The MISCord server is intended to be the primary method for reporting equipment breakdowns and emergencies as well as requesting refills of citric acid reservoirs.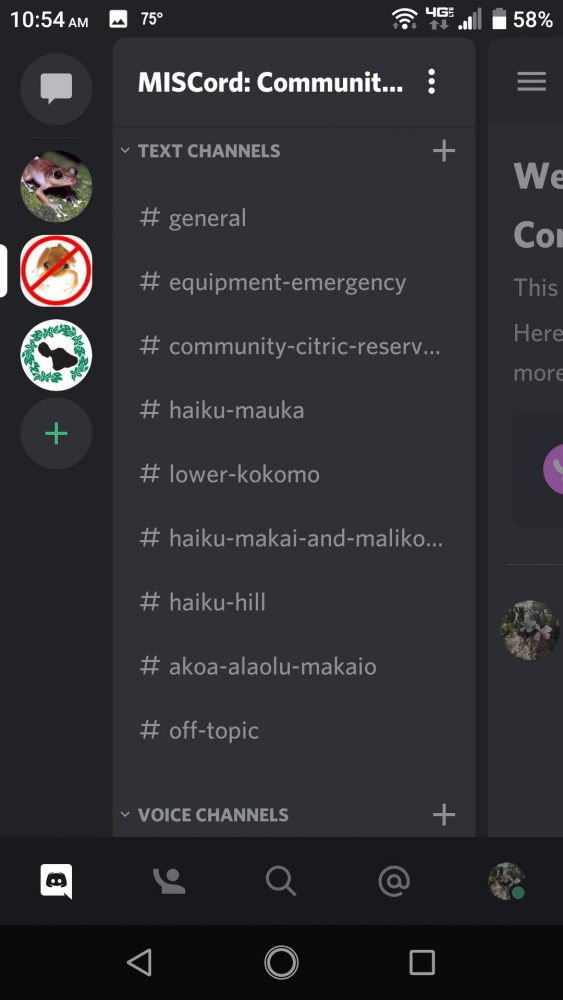 Guidelines for use of the MISCord Community Coqui Control Server:
Use of the MISCord: Community Coqui Control Discord server is restricted to MISC staff and participants in the Community Coqui Control program. Request an invitation by contacting Susan Frett, Community Coqui Control Coordinator, skfrett@gmail.com or 808-633-6646.
All users are required to adhere to the Community Coqui Control Code of Conduct https://mauiinvasive.org/community-coqui-control-program/community-coqui-control-code-of-conduct/
Users may not reveal their own or anyone else's specific location details in a public channel. Specific location details will be defined as anything that could be used to pinpoint a user's location to a specific property. This includes but isn't limited to: the physical address, GPS coordinates, TMK number or maps with specific locations indicated. If sharing specific location information is necessary to facilitate coqui control activities it may be shared in a direct message between individual users. The moderator will delete any posts that contain specific location information.
Users are asked to adopt a recognizable username so that MISC staff and their neighbors will recognize them. If a user already has an unrecognizable username they are required to verify their identity with the MISC moderator because this server is specifically for participants in the Community Coqui Control Program. Users who don't verify their identity when asked may be removed from the server.
Anyone who violates these guidelines will receive a warning about their activity from the MISC moderator. Repeated violations of the guidelines may result in the user being banned from the MISCord server.
Guidelines for use of the Equipment-Emergency channel
If a piece of equipment stops working or isn't working as well as it should, please notify MISC as soon as possible through the Equipment-Emergency text channel. Please be as specific as possible when explaining the problem and the desired solution, and include relevant photos/video clips if possible. Repairs are generally not possible outside of MISC normal working hours. If replacement equipment is available, MISC staff can be mobilized to swap out the equipment. Large equipment such as the 55-gal or 100-gal sprayers must be brought back to the MISC baseyard for the exchange.
Do not try to repair MISC equipment yourself, we have experienced maintenance people on staff who will make any needed repairs.
If an injury/accident occurs involving MISC equipment, first seek emergency medical treatment if necessary, then notify us as soon as possible of the incident.
Guidelines for use of the Community-Citric-Reservoir-Refill-Request channel
Use this channel for requesting refills of pre-mix citric acid reservoirs that are staged throughout the greater Haʻikū area.
Please include the name of the reservoir if known or at least the name of the neighborhood utilizing the reservoir.
Include the gallons of 14% pre-mix citric acid solution needed as well as the time frame when the refill is needed.
At least 24 hours notice is required for refills and currently refills are only available Monday – Thursday between 12:00 p.m. and 4:30 p.m.
Guidelines for use of other channels
Each neighborhood has their own channel to use for communicating about Community Coqui Control needs that aren't related to equipment emergencies or citric acid refill requests. To facilitate communication and learning between the Community Coqui Control neighborhoods, these channels are NOT restricted to members of the specific neighborhood groups.
The general channel should be used to ask questions of the entire Community Coqui Control Program community. MISC will post resources and announcements that are relevant to all the users here.
If users would like to communicate about topics not related to coqui frogs please use the #off-topic channel.
Join the Community! Use of the MISCord: Community Coqui Control Discord Server is restricted to MISC staff and participants in the Community Coqui Control program. Request an invitation by contacting Susan Frett, Community Coqui Control Coordinator, skfrett@gmail.com or 808-633-6646.