Citizen scientists have been key to finding most of the little fire ant (LFA) populations on Maui. Without their reports, Maui likely would not have a chance to stop this destructive ant from taking over our island. Ant submissions from concerned residents have also been key to understanding which species are already on the island. In order to understand Maui's ants better, Monte Tudor-Long, Little Fire Ant Crew Member with the Maui Invasive Species Committee (MISC) compiles records of ants collected through MISC surveys and community reports. "MISC has collected over 40 species of ants- just about every ant known to exist on Maui." Tudor-Long says.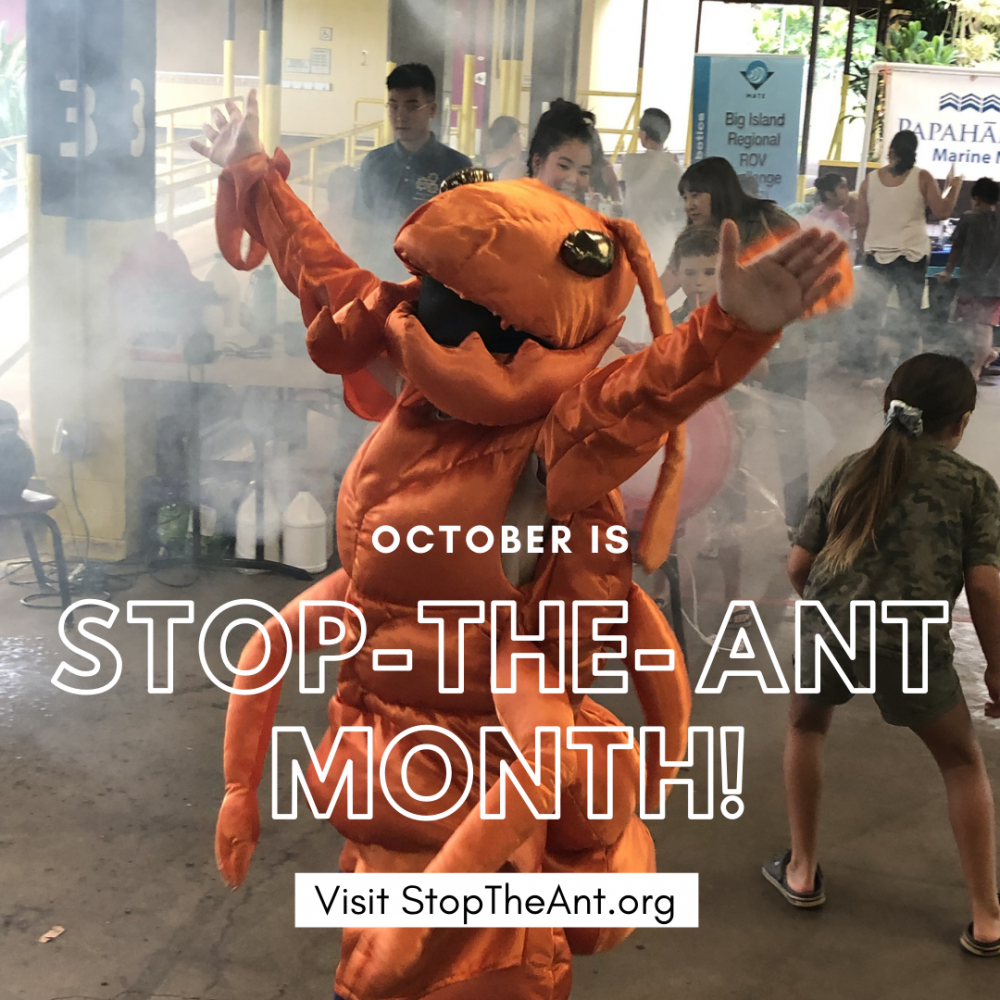 All the ants in Hawaiʻi are thought to have been brought here by humans. Over 60 species are now present. Ants are considered "ecosystem engineers" altering soils, nutrient cycling and decomposition, and food chains.  They are effective and aggressive predators. Here in Hawaiʻi, many have become invasive, causing harm to the animals not evolved to defend themselves against non-native pests.
Tudor-Long believes that identifying Maui's ants can lead to the early detection of harmful, new species. "If every household on Maui sent in samples of their ants, it would create a citizen science-based research repository that could help inform future conservation decisions," he says. Public submissions can help find new ant species not yet known to be in Hawaiʻi. They are also vital in detecting new little fire ant populations, a MISC target because of the harm they cause. In fact, 13 of the 19 existing LFA infestations were reported by the community.
Tudor-Long encourages folks to observe the ants around them and send them to MISC (request a free collection kit at stoptheant.org). He'll reply with the identification of the ant, and if LFA is detected, MISC will control the infestation. October is also Stop the Ant Month, and folks who send ants to MISC this month are entered into a raffle to win prizes. Here are some common ants that Maui residents may see and some invasive ones that Maui has a chance to stop: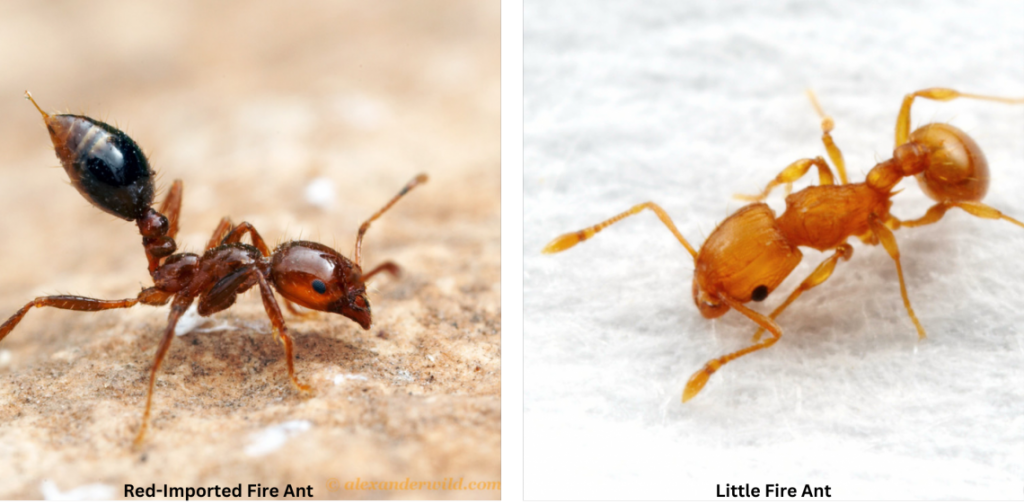 Target Ants- Report to MISC at (808) 573-6472
The little fire ant (Wasmannia auropunctata) or LFA damages economies, harms native wildlife, pets, and livestock, and prevents people from spending time outside. The only way to confirm the identification of LFA is by examining them under a microscope. The ant's venom, which is delivered by multiple stings at once, leads to an itchy, burning sensation that can last for hours or even days.  LFA are slow-moving and unaggressive. This arboreal ant literally rains down on people as they brush past infested foliage. LFA are not widely established on Maui and should be reported to MISC.
The red imported fire ant (Solenopsis invicta) or RIFA has not been detected in Hawaiʻi and should be reported to MISC. Plaguing the southern United States, RIFA are exceedingly aggressive, attacking with painful stings. The hope of controlling and eradicating this ant will require early detection of its arrival. Says Tudor-Long, "If it arrives under the radar and we fail to notice right away, it will spread rapidly throughout the drier, sandy lowlands of Maui."  For this reason, samples of tropical fire ants, a lookalike species, should be routinely collected and sent to MISC to make sure it is not RIFA.

Common Ants on Maui- Not controlled by MISC:
The Hawaiian carpenter ant (Camponotus variegatus) is the largest ant in the state- up to half an inch long. Winged males and females fly when mating, often swarming toward lights. They are nocturnal, do not sting, and mostly leave people alone.  The Hawaiian carpenter may nest in wood cavities but does not damage wood. Carpenter ants are one of the first ant species ever documented in the islands, first recorded by entomologists in 1879.

Tropical fire ants (Solenopsis geminata) have been tormenting beach-goers in Hawaiʻi since the mid-1800s. These aggressive ants sting the feet and ankles of any passerby near their nests. Tropical fire ants are red and can reach up to a third of an inch.  Compared to little fire ants, these ants are gigantic – up to four or five times the size of LFA.  Slow-moving LFA are nearly invisible, while fast-moving Tropical Fire Ants are quite easy to see swarming on your bare feet. 
The African big-headed ant (Pheidole megacephala) was one of the first ants to be introduced here. By the late 1800's it wiped out scores of endemic insect species as it mowed its way through Hawaiʻi's native forests. You can find these ants just about everywhere in Hawaiʻi up to around 3,000 feet elevation. They bite our legs and feed on non-native insects like the larvae of houseflies. This species makes small ant hills – and ant "roads" – especially after heavy rains. 

Serena Fukushima is the public relations and education specialist for the Maui Invasive Species Committee. She holds a bachelor's degree in environmental studies and a graduate degree in education from the University of Hawaii at Manoa. "Kia'i Moku, Guarding the Island" is written by the Maui Invasive Species Committee to provide information on protecting the island from invasive plants and animals that threaten our islands' environment, economy and quality of life.
This article was originally published in the Maui News on October 8, 2022 as part of the Kia'i Moku Column from the Maui Invasive Species Committee.
Read more Kiaʻi Moku articles