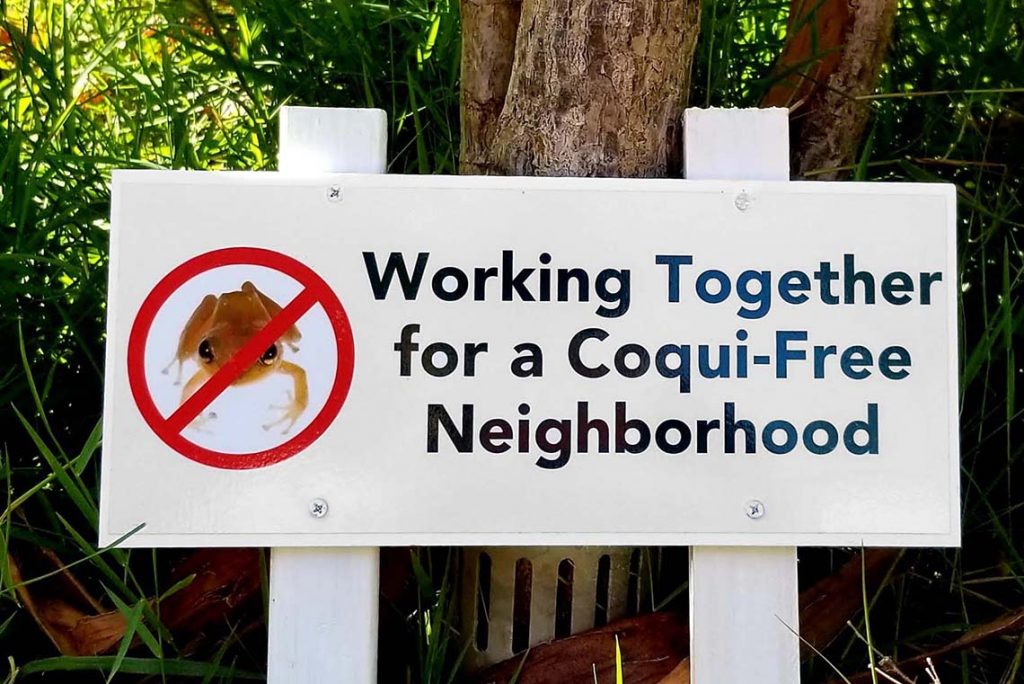 ʻAʻohe hana nui ke alu ʻia
No task is too big when done together by all.
-Pukui ʻŌlelo Noʻeau 142
Haʻikū community members are coming together to bring back their quiet nights, protect their property values, and protect their local environment from invasive coqui frogs. Neighbors are joining forces to control coqui in their backyards.
By working together in a strategic, organized way, the community members are better able to control coqui and prevent missed pockets of frogs from spreading out and reestablishing in treated areas. This effort by community members enables the MISC coqui crew to work in the gulches and other difficult-to-access areas.
Learn more about the program by viewing this video that was shared as part of Hawai'i Invasive Species Awareness Month in 2021.
Neighborhood work weeks recur every six weeks with participants signing up to spray a dilute citric acid and water solution in their own yard and to assist neighbors. The concentration of the food-grade citric acid in the solution is 14%. This concentration is effective for controlling coqui frogs and is safe for people to work with as long as safety practices are followed, including wearing long pants and sleeves, as well as gloves and eye protection. Find out more about the effects of citric acid on the environment here.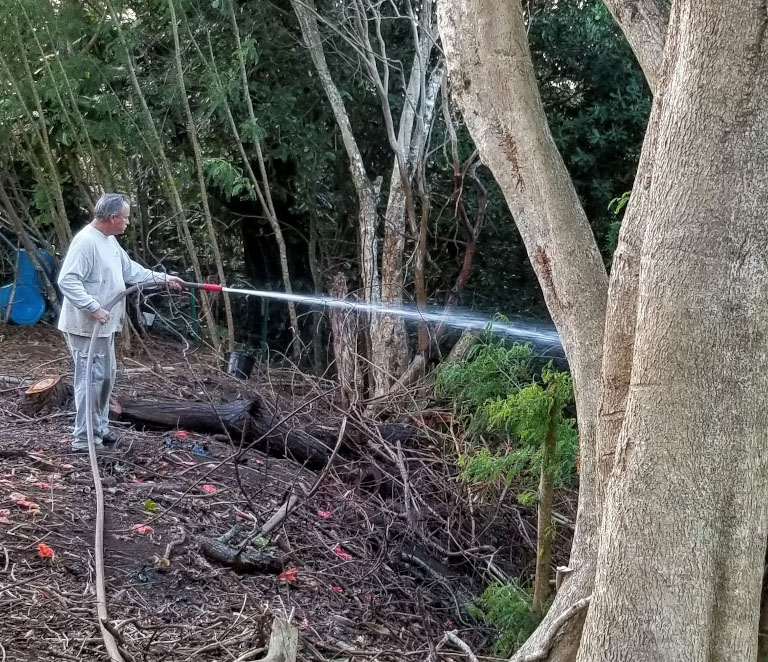 During the workweek, MISC provides training, premixed citric acid solution, and equipment for using the premixed citric solution, while the neighborhoods provide the labor and a truck to transport equipment, including either a 55 or 100-gallon sprayer.
Prior to and during each workweek the MISC Coqui Crew pre-mixes quantities of the citric solution and fills a reservoir that is located within the neighborhood for a convenient refill of sprayers. Neighborhood participants spray one to three properties every evening during the workweek, hitting all areas in the neighborhood with coqui frogs by the end of the week.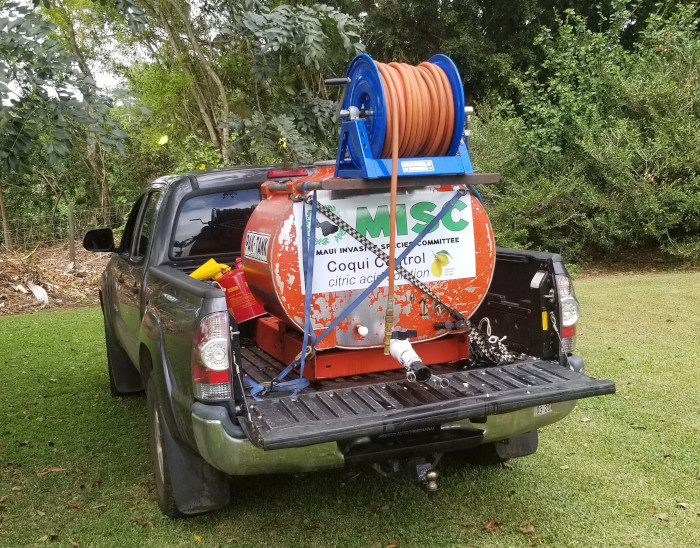 Some of the neighborhoods have installed pipelines that span multiple properties along the high-density coqui areas, allowing residents to plug-in hoses, spray citric solution, and create frog-free buffers.
Community spray weeks are currently happening in Haʻikū Hill, Haʻikū Mauka, Haʻikū Makai, Lower Kokomo, and Cannery Mauka neighborhoods. MISC is planning to expand this program to additional neighborhoods, possibly including but not limited to Cannery Makai, Haʻikū Town Acres, and the area near Lilikoʻi Road in the near future as we build our capacity to support the community.
Additional Community Coqui Control Program support opportunities:
Equipment loans (55-gallon, 100-gallon and/or 9-gallon sprayers)
To find out more about these opportunities to help out with coqui frog control activities, please contact the acting Coqui Coordinator, Megan Archibald, at (808) 633-1203 or  meganpa@hawaii.edu.
Modified March 9, 2023