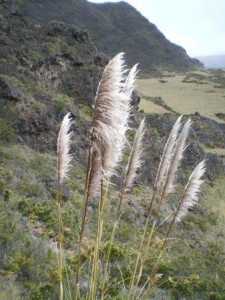 (Cortaderia jubata, Cortaderia selloana)
Family: Poaceae
*Denotes designation as on the Hawaii State Noxious Weed List. It is prohibited to propagate; transport to new areas islands or locations within the state where they are not already established; or export outside the state. for more information, see the Hawaii State Noxious Weed List. The Division of Forestry and Wildlife of the Hawaii Department of Land and Natural Resources has designated this species as one of Hawaii's Most Invasive Horticultural Plants.
Description:
Large clumping grass that may reach 2 meters (6 ft) or taller
Leaves are narrow and have sharp, serrated edges
Showy white to purple flower plumes are sometimes used in floral arrangements
Native to South America, introduced to Hawaii as ornamentals
Harm:
Seeds are spread long distances by wind. In native forests they outcompete native plants and create a fire hazard.
Cortaderia jubata plants are able to produce viable seeds without cross-pollination
C. selloana, requires cross-pollination between male and female plants to produce viable seeds, spread primarily by wind. The invasive nature of C. selloana was not recognized in Hawaii in past years because only female plants were cultivated and sold. Male plants are now available.
Serious pests in California and New Zealand
In Hawaii:
Kauaʻi – The two known populations in Līhuʻe and Kōkeʻe have been eradicated. KISC is working to educate the general public about the invasiveness of these plants.
Oʻahu – OISC is working to educate property owners where the few ornamental plantings of C. selloana exist, and requests that pampas grass be removed and replaced with non-invasive alternate plants.
Maui – Both species of pampas grass were planted as ornamentals in upcountry Maui, and Cortaderia jubata has spread to other yards, pastures, native forests and Haleakalā National Park. MISC is working to control both species before they become widespread. Property owners can help by contacting MISC for free help in removing these plants.
Molokaʻi – All known plants were in landscaping situations, which MoMISC controlled.
Lānaʻi – None known.
Kahoʻolawe – None known.
For more information, see:
Updated 03302023