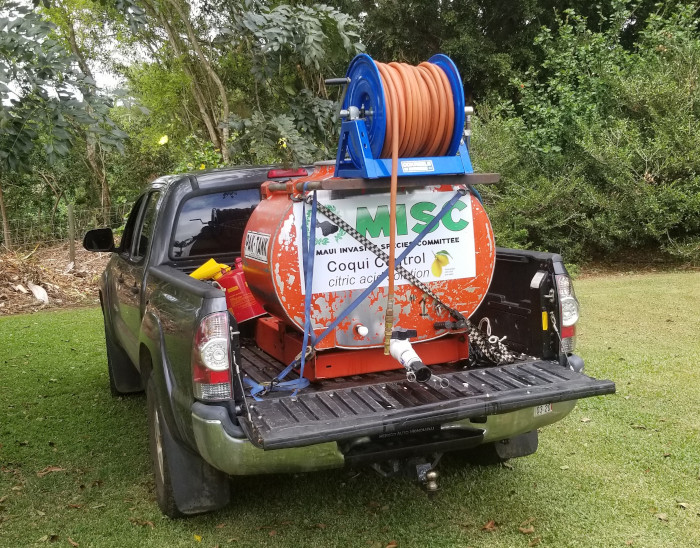 The MISC Community Coqui Control Program provides equipment such as 100-gallon sprayer tank(s), nine-gallon walk behind sprayer(s), hoses, and supplies including powdered citric acid or 12-16% citric acid solution to community members to treat coqui frogs on their own properties or properties that have granted access to community members for entry.
All community members using MISC equipment and supplies must agree to the conditions within this Community Coqui Control Code of Conduct and follow these requirements whenever responding to coqui frogs within their neighborhood. MISC may terminate any community member's right to use MISC equipment if the Code of Conduct is not followed.
Treat all the people in the community with respect at all times. Do not trespass onto neighbor's property or threaten or harass the occupants or owner. The Community Coqui Control Program relies on neighbors helping neighbors and working together. If the property owner or tenants have denied access for community members to treat coqui frogs that decision must be respected. If the property owner hasn't signed up on the spray week schedule do not assume access is allowed even if it has been granted in the past.
If personal property is damaged during the course of community spray activities, please apologize to the owner and work with them to clean up or make repairs as needed.
Treat all personal information as confidential, including contact information for your neighbors. Do not share information about whether or not coqui are present on a particular property publicly. This includes not sharing any maps or other information that MISC may make available to the members of a neighborhood. 

If you become concerned about coqui on a particular property please report that to MISC using this form: Coqui Report Form

MISC will provide written information regarding the care and use of the equipment at each distribution. Please follow the care and use guidelines to ensure that the equipment is always in working order. Citric acid is extremely corrosive to metal objects, so daily cleaning is necessary. If a piece of equipment fails in use or is damaged, please alert MISC staff so repairs can be made.
When checking out a 100-gallon tank sprayer, the equipment must remain in the same vehicle during the entire check out period. If a transfer of the tank is needed, that must be performed at the MISC baseyard.
When using citric acid to treat coqui frogs follow all label guidelines including:

Read and fill out the form here: CITRIC WAIVER HDOA FORM
if using powdered citric mix the correct solution, recommended is 12-16%. A 1.28 lb bag of powdered citric acid mixed in one gallon of water will create a 16% solution
wearing appropriate PPE  (gloves, eye protection, closed-toe shoes, long pants, and long sleeves)
having water available to rinse areas where the citric may have accidentally spilled and to rinse your skin and eyes if exposed.

At times, MISC may make a green waste dumpster available to facilitate the removal of the coqui habitat. The best practice is to spray the area with a 12-16% solution first and then cut back the plants or remove the debris within a few days in order to minimize moving coqui in green waste.
When MISC provides green waste removal do not put anything into the green waste container that is not allowed. This includes but is not limited to, green waste from outside the neighborhood, commercial green waste, stones, dirt, building materials, or trash. Access to the green waste container will be restricted, do not share any lock codes with anyone. Direct them to contact MISC or the designated green waste captain for that information.
MISC Community Coqui Control staff are available to assist with challenges that may arise during community level coqui control. Please contact the Community Coqui Control Coordinator, Susan Frett at skfrett@hawaii.edu or (808) 633-6646 with any questions or concerns.
MISC requires that any community member who requests to check out our equipment or receive citric acid acknowledge that they will adhere to the Community Coqui Control Code of Conduct and the HDOA Citric Acid Waiver Form. Please visit this website to complete this process.