Hawai'i has no native amphibians. Today, there are six, all who arrived with the help of humans. Here are some tips to help you distinguish between coqui and the related greenhouse frog as well as identify some of the other commonly found non-native amphibians.
As of August 2021, MISC has eliminated 22 populations of coqui frogs (five or more calling males) across Maui and there are currently 9 active sites. MISC has slowed the spread from Maliko gulch while keeping the rest of Maui from being affected; single "outlier" frogs have been caught all over the island.
Without previous management efforts, coqui frogs would already be beyond control for Maui.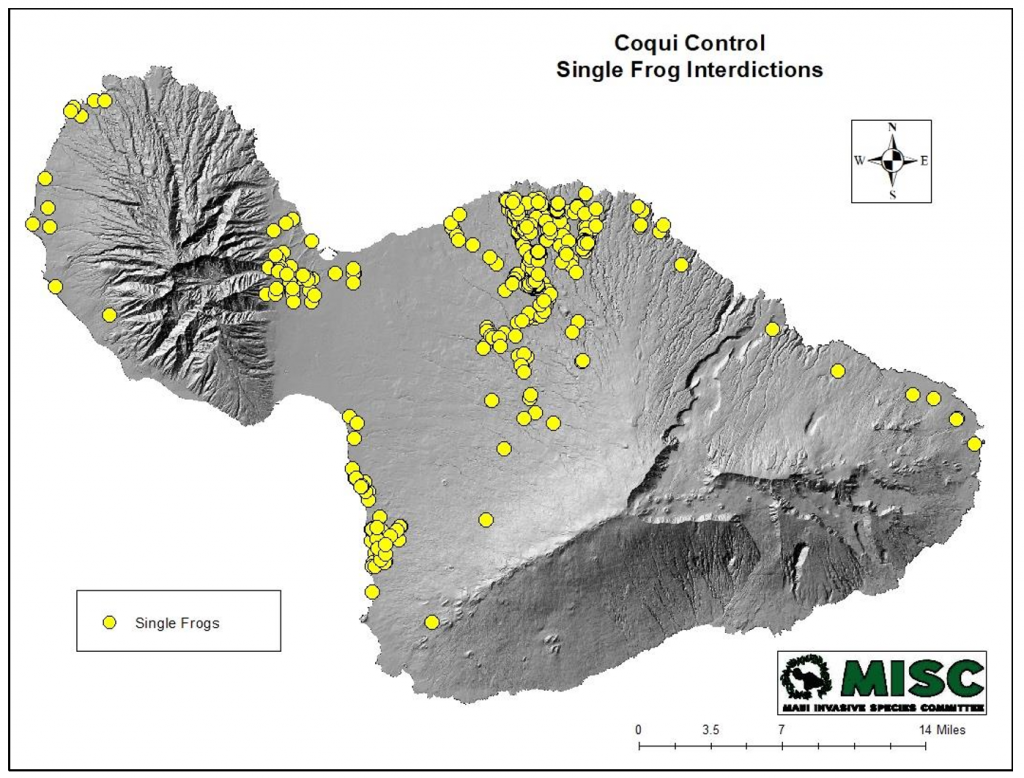 Maui Invasive Species Committee's Coqui Strategic Plan lays out a proposed ten-year strategy for the eradication of coqui frogs from Maui. Without a significant and sustained increase in efforts, the vision of a coqui-free Maui will become impossible. If coqui are allowed to spread across the island, impacts are expected to affect tourism, real estate values, nurseries, health, quality of life, cultural resources, and native ecosystems.
Control methods include hand-capture of single frogs, habitat modification, spraying a citric-acid solution, and installation of barrier fences.
MISC has developed and is implementing a robust community engagement program to encourage control activities by local residents.
Considerable resources have been invested in control of coqui frogs on Maui and increased investments will be necessary to eradicate coqui from the island. In order to assess whether such expenditures are appropriate, it is essential to consider what is at risk, along with the feasibility and cost of control.
Read the Executive Summary HERE
The video above shows what an average day looks like for the field crew followed by a slideshow describing the broader context of coqui frogs on Maui
MISC approaches coqui control similar to how wildland firefighters contain a fire – establishing control lines around the perimeter and focusing on the hot spots (the areas where coqui are spreading fastest) and outliers. Gulches are hot spots, accelerating the spread of the frogs by funneling coqui to uninfested areas.
Hitting hot spots in wild, overgrown areas, and steep gulches is incredibly challenging. To spray these hard-to-reach places the crew installs a network of PVC pipes in the gulch.
This allows the crew to use both pumps and gravity-fed systems originating from a tank of citric farther away. Then the crew "plugs in" fire hoses at stations built into the PVC system, enabling the crew to effectively target the frog populations in hard-to-access areas.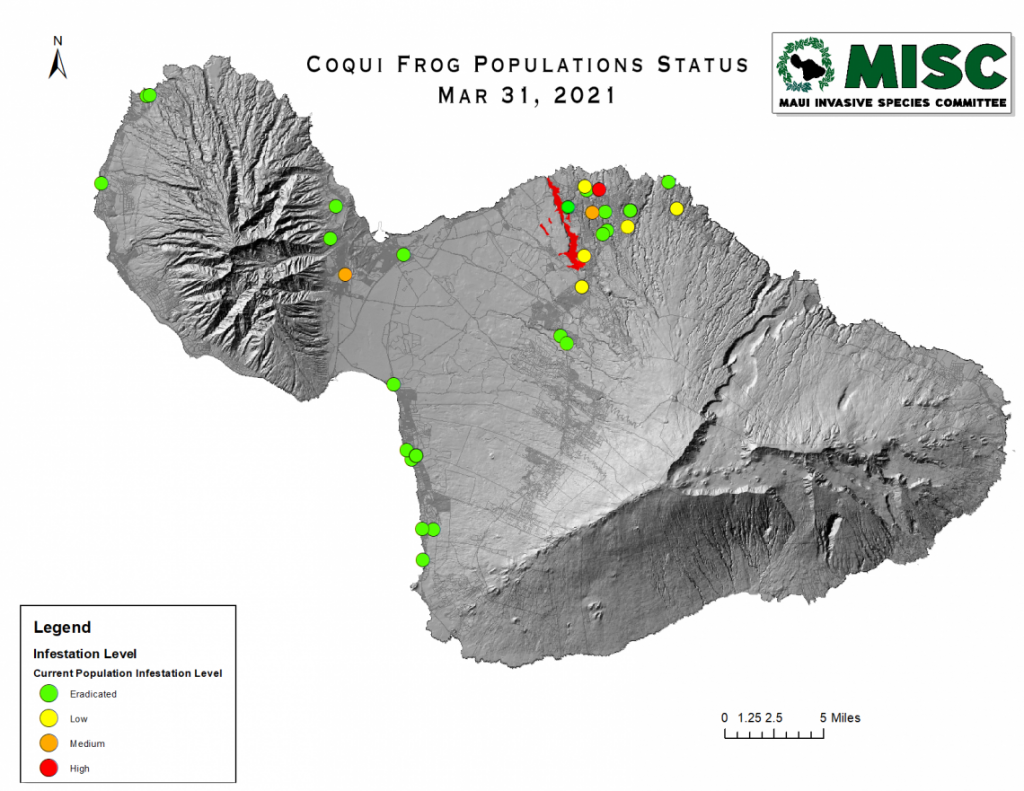 Work with your neighbors. As the front line of the coqui infestation spread east from Maliko gulch into Haʻikū, we've partnered with neighborhoods. These communities have taken up the charge of eliminating coqui within their own backyards and help their neighbors do the same.
By taking action in your backyard, you are contributing to coqui free neighborhoods and allowing the coqui crew to focus their efforts in gulches and cliff faces.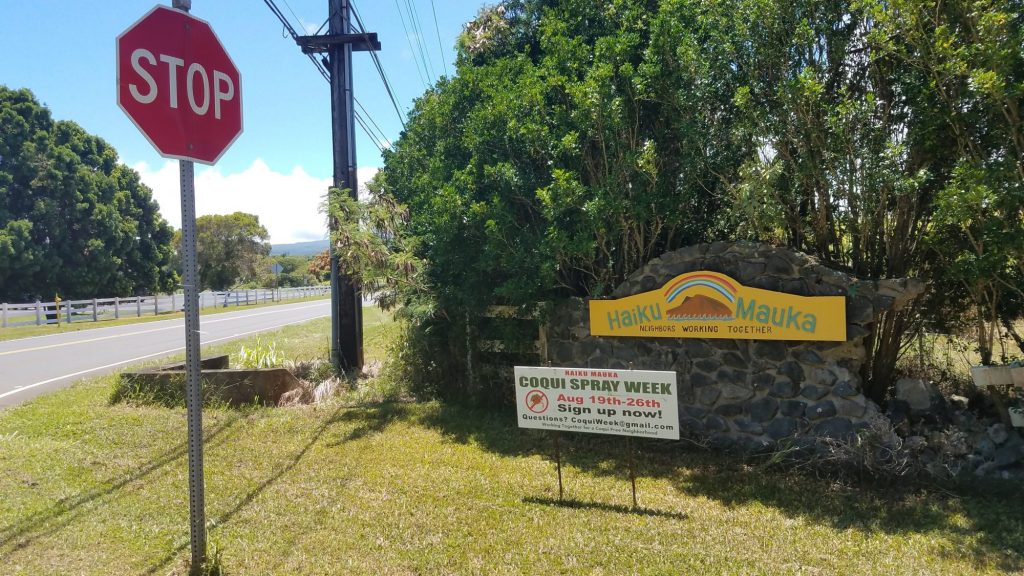 It's not just coqui:
The Maui Invasive Species Committee (MISC) works on 30+ invasive species across Maui County, including plants, ants, and plant diseases.
We couldn't do any of this without a supportive community. Mahalo nui!