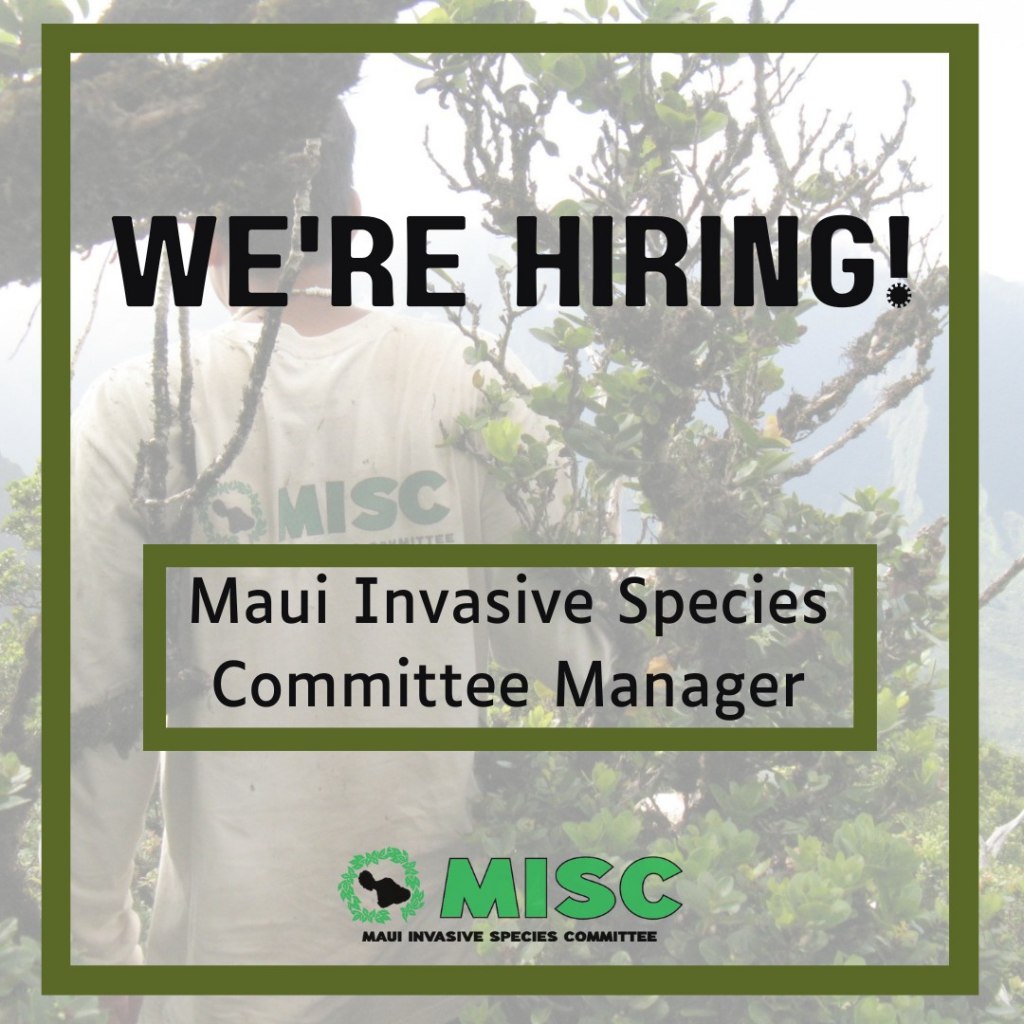 The Maui Invasive Species Committee (MISC) is seeking a new Manager to lead its multi-taxa, innovative program focused on the eradication of invasive species. MISC's rapid-response teams work throughout the island of Maui in coastal habitats, forested watersheds, ranchlands, and residential areas. Target species include a suite of invasive plants, vertebrates, and invertebrates. MISC staff brings creative, science-based management approaches to controlling some of the greatest threats to Hawaiʻi and works closely with the community and partners to protect some of the most unique places in the world. The Committee seeks a manager who can bring a landscape-scale perspective, a grounding in invasion biology and operations, and an ability to motivate and honor those who do the hard work on the ground. The project has a robust outreach and education program and receives strong support from county and state funding.
Responsibilities include providing goals and objectives for staff, writing grants, tracking and reporting on deliverables, and ensuring a strong relationship with partners, funders, and the broader community. The manager also provides support and oversight for the Molokai/Maui Invasive Species Committee.
Eligible candidates will have:
Project management experience, including community engagement (5-7 years), and experience overseeing a culturally- and professionally-diverse workforce (3-5 years).
Knowledge of Hawaiian environment, community, economy, and politics.
Excellent management skills, including the ability to provide guidance, motivate, and engage direct reports through effective communication and leadership.
For more information, contact Teya Penniman 1 (808) 280-1170 or penniman@hawaii.edu
The full job description and application information is available through the Research Corporation of the University of Hawaii. Maui Invasive Species Committee Manager
Application Deadline: November 11, 2022