Early Detection:
No news is good news, at least from the early detection team. Forest and Kim Starr surveyed the Kahului Airport every two weeks as part of the Māmalu Poepoe Project, a statewide interagency collaboration to monitor ports of entry for invasive species.They check for coconut rhinoceros beetles, Africanized honey bees, and invasive ants like little fire ants and red imported fire ants. Fortunately, they did not find anything of concern. You can read more about the project here: Māmalu Poepoe Project Traps and Monitors for Invasive Pests.
Additionally, the pair surveyed for but did not find any evidence of naio thrip, an invasive sap-sucking insect that attacks native naio plants. Find out how to help protect naio here: https://www.oahuisc.org/naio-thrips/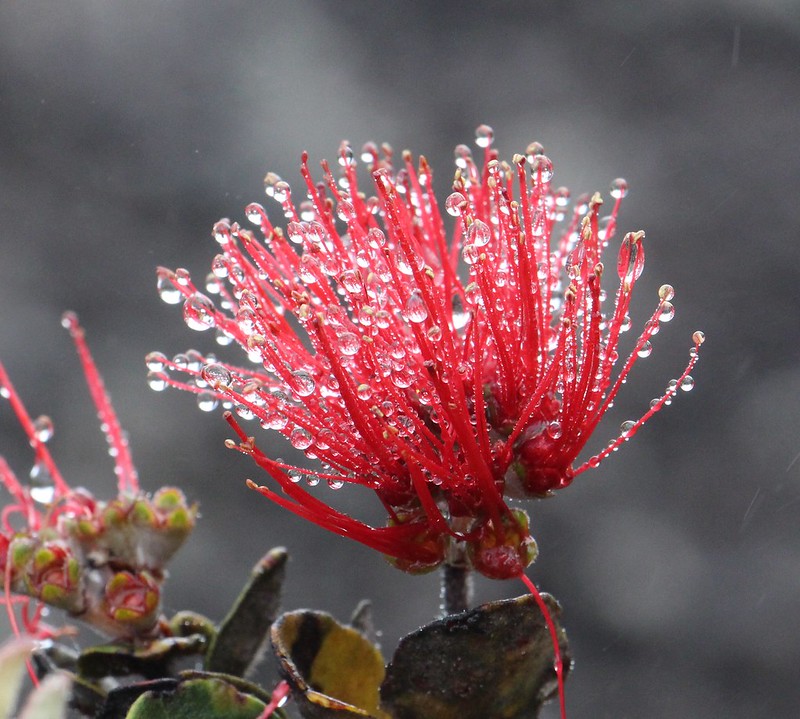 During the late summer quarter, July through September, staff continued with virtual outreach and preparations for the fall. In August, outreach staff worked with the statewide team raising awareness around Rapid ʻŌhiʻa Death to record a series of island-specific training on biosanitation (cleaning gear and equipment to remove invasive species). This training will be distributed by the ROD outreach team.
MISC staff published an article in the Maui News on planting native plants to mitigate wildfire risk in July and the impact of rats on the loulu palm populations throughout Hawai'i in August. The featured article in September gave an overview of recent research on the impacts of miconia. These articles and others can be viewed here: Invasive Species Articles
Virtual and socially distancing events are in the works for October including Spot the Ant, Stop the Ant month, an awareness campaign for little fire ants, and two sessions as part of the Maui Mauka Conservation Awareness Training. October 13th features Jenni Learned from the Maui Nui Seabird Recovery Project and October 19th will highlight the work of Keahi Bustamente on endangered invertebrates.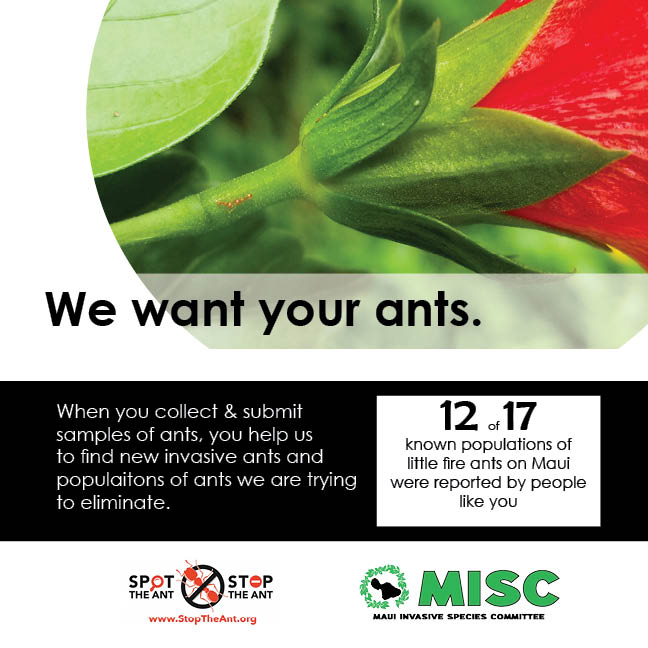 October (all month): Stop the Ant awareness month. The invasive species committees throughout the state are asking for your help in finding the little fire ant. Join in!: 

Follow and share on social media through MISC (Facebook and/or Instagram) and the Stop the Ant group (Facebook)
Collect ants from your yard and send them to MISC. All it takes is a little peanut butter and you can help find the ant before it finds you. For more information, visit: http://stoptheant.org/

October 16th: Deadline for nominations for the Mālama i ka ʻĀina Award: This annual award, sponsored by the Maui Association of Landscape Professionals, County of Maui, and MISC,  recognizes the proactive efforts of those in the landscape community in preventing the spread of invasive species on Maui County. Submit your nominations here: Mālama i ka ʻĀina Award
October 13 and  October 19: Maui Mauka Conservation Awareness Training. Learn more about ongoing conservation efforts in a virtual, socially distanced, online training. The core presentation covers the natural history of Hawai'i, the importance of the rainforest to the watershed, efforts to protect native birds, and invasive species threats. Guest presenters rotate; October 13th will be Jenni Learned from the Maui Nui Seabird Recovery Project October 19th will be Keahi Bustamente, a field biologist with the Department of Land and Natural Resources – Division of Forestry and Wildlife, specializing in native snails. If you are interested in attending one of these trainings, sign up today: mauimauka.org
September Updates on other species here:
All Updates