Retired state forester Bob Hobdy knows his trees. So, when he was driving through his Haʻikū neighborhood earlier this summer and saw a tree he didn't recognize, he collected a branch complete with the flowers and seeds. After some sleuthing, he determined that it was Vernonthura polyanthes, a tree that has never been documented in Hawaiʻi, hiding in plain sight. Hobdy, concerned about the invasive potential of this plant, shared his findings with MISC's Early Detection Specialists, Forest and Kim Starr, who quickly confirmed the identifications. The surprise lies in how far it had already spread.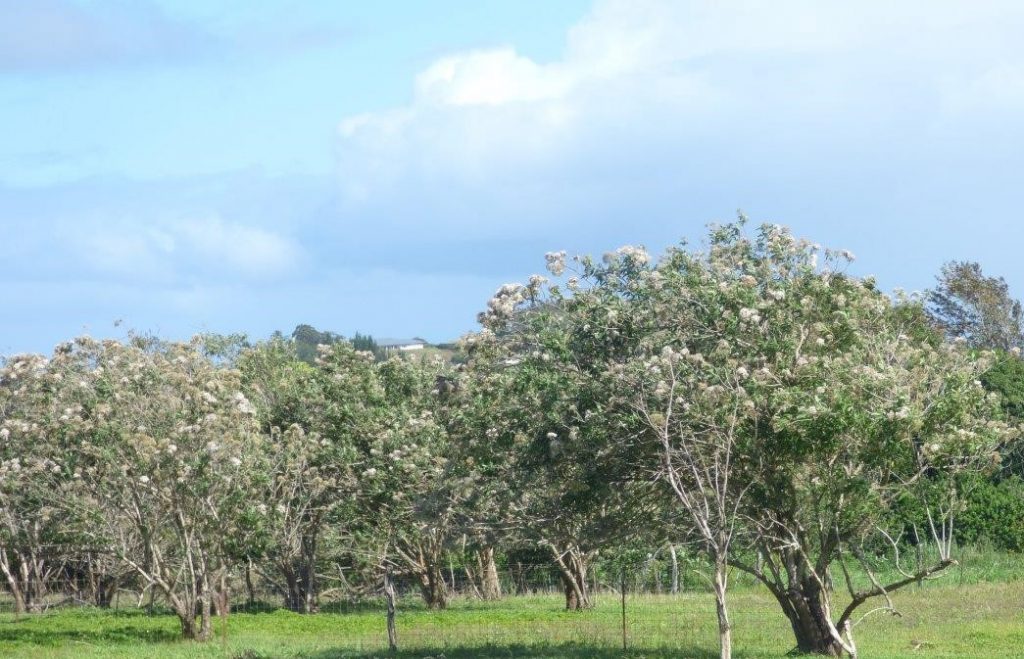 The Starr's gathered historical aerial photos of the area where this tree was discovered, looking for an indication of how many trees might be there. The results were shocking. In 2008, the area was completely cleared and bare dirt. Photos from 2015 show vegetation regrowth and a sprinkling of this new arrival in open pasture. In 2019, the pasture was completely clogged with mature trees. Recent data shows that this tree has sprouted up from Māliko Gulch to Kaupakalua Gulch, and ranges from about 600-1,000 ft. elevation. Aerial imagery can only go so far, and the Starrʻs are concerned that the pest may have expanded farther than can be detected with only aerial photos. As of the publication date of this article, the invasive tree has colonized an estimated 1,000 acres. Though current data shows this tree to only be in the Haʻikū area, Hobdy has concerns about its potential to spread further. "If left unmanaged, this tree will invade Maui's agricultural and pasture lands and even has the potential to reach Haleakalā's leeward native forests."
Vernonathura polyanthes is commonly called assa-peixe (ah-sa-payshay) in its native Brazil. Its leaves are breaded and fried and eaten as a snack, and when prepared this way, the veins of the leaves are reminiscent of fish bones, inspiring the tree's common name, which translates to "fish roaster." The tree can grow to about 20 feet in height and has oblong-shaped green leaves. During the winter months in Brazil, assa-peixe puts on a display of delicate white and pink colored flowers, resembling the blooms on invasive haole koa.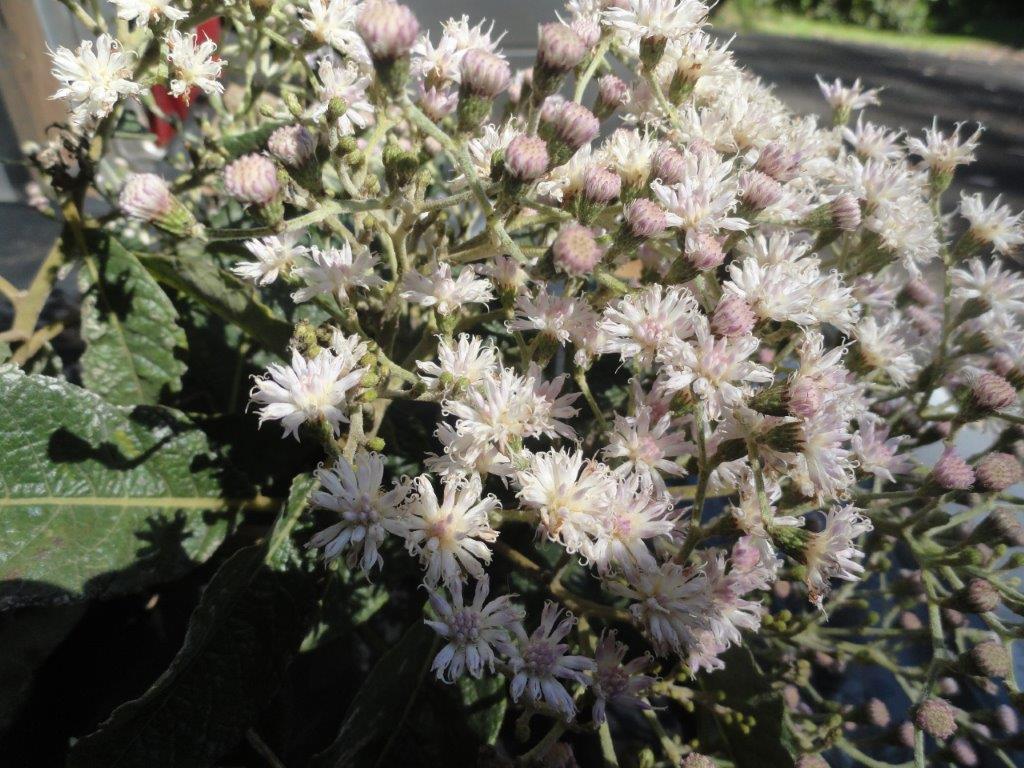 Beloved by bees and beekeepers, assa-peixe was exported in the 1990s to Mozambique as a nectar plant for honeybees. It invaded quickly- thriving in open agriculture fields, pasture lands, roadsides, and other areas disturbed by humans and animals. It soon began impacting agricultural communities and economies while creating a significant wildfire threat. Able to regrow after being cut down or after a fire and with seeds that travel easily by wind, assa-peixe moved into neighboring Zimbabwe and quickly became a dominant invasive species in the region within 25 years.
No stranger to working with invasive species throughout his 38-year career, Hobdy remarks, "In less than 20 years, it seems to be doing the same thing on Maui that it's been doing in Africa. Frankly, this one scares me."
Maui Invasive Species Committee staff and partners plan to conduct more surveys to determine many trees are established. "Even if it seems like something you've seen before, be like Bob and investigate. You just may have found something early enough to stop it." says Starr. He encourages the Maui community to keep an eye out for assa-peixe to learn if it has moved further from the known area. Since the seeds of this tree can quickly disperse on Maui's trade winds, it has the potential to spread to other places, so catching it early and controlling it in your backyard before it gets out of hand is critical. If you find assa-peixe outside of the Haʻikū area, take a photo and report it to 643pest.org.
Serena Fukushima is the Public Relations and Education Specialist for the Maui Invasive Species Committee. She holds a bachelor's degree in environmental studies and a graduate degree in education from the University of Hawaiʻi at Manoa. "Kiaʻi Moku, Guarding the Island" is written by the Maui Invasive Species Committee to provide information on protecting the island from invasive plants and animals that threaten our islands' environment, economy and quality of life
This article was originally published in the Maui News on September 11, 2021 as part of the Kia'i Moku Column from the Maui Invasive Species Committee.
Read more Kiaʻi Moku articles.