At the start of a new year, many of us are taking time to reflect and set goals. Consider adding to your list a resolution to do small things each month to protect our environment. Here are a few simple actions you can take that will help make a difference on the invasive species front throughout the year.

January– Clean before you go. If exercise is on your list of resolutions, hiking is a great way to crush your step goal! Take a few minutes to clean your boots, gear, and car of mud and dirt before and after going to a new place. This helps prevent seeds and other invasive hitchhikers from spreading into a new area.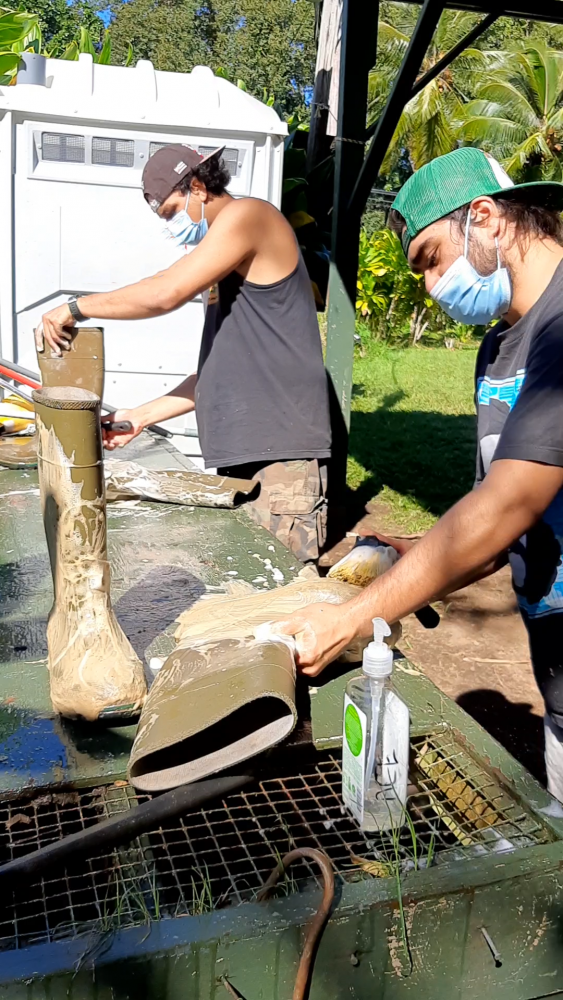 February- Learn about statewide invasive species efforts. February is Hawaiʻi Invasive Species Awareness Month (HISAM), an initiative to share and bring awareness to statewide invasive species efforts. Join in on this year's activities by visiting http://dlnr.hawaii.gov/hisc.
March– Report chirping coqui. Hawaii's wet season (hoʻoilo) is typically November through April. Coqui tend to go out during rainfall or just after it has rained, especially when the temperatures are above 70 degrees, making this month especially good to be alert to coqui calls. If you hear one, report it to mauiinvasive.org.
April– Plant native. April is Native Hawaiian Plant Month. Celebrate by planting native! Native plants use less water, fertilizer, and fewer pesticides, in addition to creating a healthy environment, watershed, and helping native species thrive.
May– Make lei. May day is lei day in Hawaiʻi, and a great time to learn about this important cultural practice. Many lei are made using native plants, some of which you may have planted in April. Some modern lei even include invasive species to highlight environmental issues artistically.
June– Prevent the spread of Rapid ʻŌhiʻa Death (ROD). ʻŌhiʻa flowers year-round but bloom heaviest March-June. Although Maui has only had one positive ROD case since 2019, it is important to stay vigilant in protecting this cherished tree from this deadly fungus. Report ʻōhiʻa trees that have browned and died suddenly to 573-MISC.
July– Travel smart. Check twice before you bring something interisland. The Hawaiʻi Department of Agriculture must inspect plants and plant cuttings before being taken interisland to ensure there are no unwanted pests or diseases riding along. Also, if you traveled to Hawaiʻi Island, make sure to decontaminate boots and gear before returning home to prevent spreading ROD to other islands.
August– Report pampas grass. This highly invasive grass starts to bloom in August, and large clumps have the potential of producing millions of wind-borne seeds in just one year! In forests, pampas compete against native plants in our watershed and can create a fire hazard. It is illegal to propagate or transport pampas into the state. If you see pampas- either planted in the ground or in an arrangement, report it to 573-MISC.
September– Be neighborly. Some invasive species problems are too big to tackle alone, but left unchecked will become everyone's problem. Offer to help out your neighbors with an invasive species in their yard. If you have coqui frogs in your neighborhood, joining the Community Coqui Control Program with MISC is one way to get involved in tackling this invasive pest. Visit mauiinvasive.org to learn more.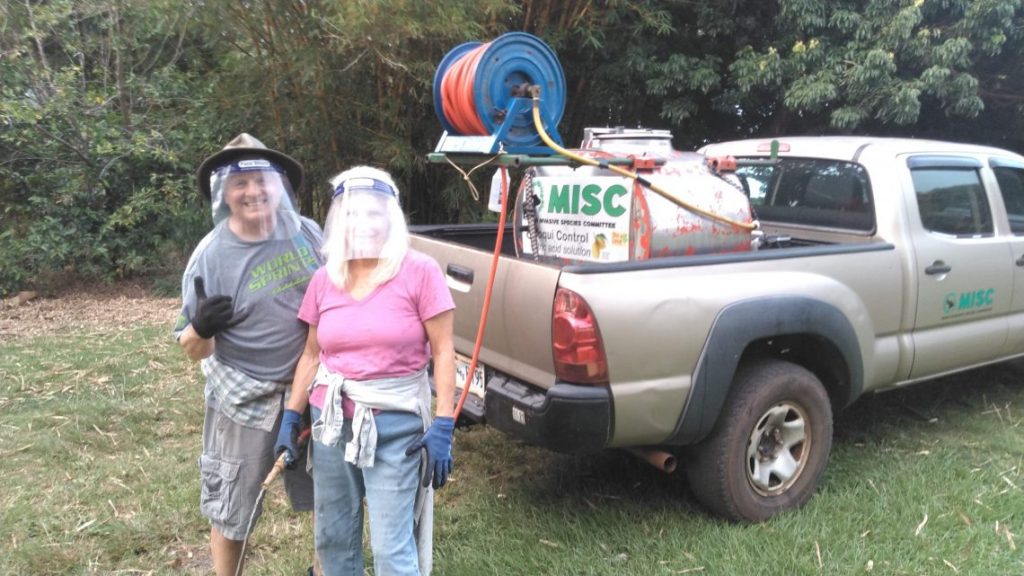 October– Survey your yard for little fire ants. October is Stop the Ant Month! Prevent the spread of this painful invasive pest by surveying your yard at least four times a year. Learn more and request a free collection kit at stoptheant.org, and always report stinging ants!
November– Eat an invasive. The season of eating offers plenty of edible invasive species, from axis deer to strawberry guava to pigs. Make a meal, or part of a meal, in the spirit of removing invasive species. Visit chefhui.com to learn more about creative ways to cook invasive species.
December- Have a local Christmas. Choose a locally grown Christmas tree from the Kula Botanical Garden, or get a permit from DLNR and cut down an invasive pine in Kula Forest Reserve! Native alaheʻe also make a great substitute and grow well in pots to use year after year.
If you want to do more, there are a host of organizations and volunteer activities for any interest. You can find volunteer opportunities on Maui at http://mauimauka.org/volunteer..
Serena Fukushima is the public relations and education specialist for the Maui Invasive Species Committee. She holds a bachelor's degree in environmental studies and a graduate degree in education from the University of Hawaii at Manoa. "Kia'i Moku, Guarding the Island" is written by the Maui Invasive Species Committee to provide information on protecting the island from invasive plants and animals that threaten our islands' environment, economy and quality of life.
This article was originally published in the Maui News on January 8, 2022 as part of the Kia'i Moku Column from the Maui Invasive Species Committee.
Read more Kiaʻi Moku articles