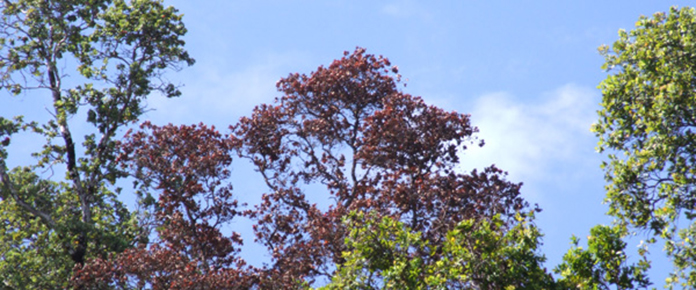 (Ceratocystis huliohia, Ceratocystis lukuohia)
Rapid ʻŌhiʻa Death or ROD is a disease of ʻōhiʻa trees caused by one of two species of the Ceratocystis fungus, either huliohia or lukuohia. The pathogen was first identified on Hawaiʻi Island in 2014 but likely had been present for years beforehand. As of 2020, Rapid ʻŌhiʻa Death has been detected on Kauaʻi, Oʻahu, Maui, and Hawaiʻi Island. On Maui, the only infected tree detected (July of 2019) has been destroyed.
Five things you can do:
Keep your eyes open: If you see an ʻōhiʻa with ROD symptoms, take a picture and contact your local Invasive Species Committee right away. Samples of the wood must be taken and tested to confirm the presence of ROD fungi.
Don't move ʻōhiʻa interisland: The disease can be spread to new areas by moving ʻōhiʻa plants, plant parts, and ʻōhiʻa wood from infected areas such as Hawaiʻi Island. Donʻt transport ʻōhiʻa interisland without a permit.
Avoid injuring ʻōhiʻa: Avoid cutting or wounding ʻōhiʻa. Openings in the bark create entry points for the fungus and increase the odds that the tree could become infected with ROD.
Clean your shoes, tools, and gear: Fungal spores can be spread in soil from infected areas. Always clean your shoes, clothes, and gear before traveling to another island or forested area.
Wash your vehicle: Invasive species often move on and in vehicles. Wash the tires and undercarriage to remove all dirt, especially after traveling off-road. Take special care when shipping vehicles interisland.

Information from the Rapid ʻŌhiʻa Death Statewide Brochure.
Description:
The fungus attacks and can quickly kill ʻōhiʻa trees (Metrosideros polymorpha). ʻŌhiʻa trees are essential to the rain forests of Hawaiʻi.
An apparently healthy tree's crown will turn from green to yellow then brown and appear dead over a few days to weeks.
Leaf death is not scattered; entire branches or the entire crown will die at once.
Rapid ʻŌhiʻa Death can only be confirmed by samples sent to a Hilo research lab. Report suspected trees immediately. Do not prune or cut trees to avoid accidentally spreading the fungus.
Harm:
ʻŌhiʻa is endemic to Hawaiʻi and comprises approximately 80% of Hawaiʻi's native forests and is the key to the function of the watershed and survival of native forest plants and animals.
There is no known cure for the disease in ʻōhiʻa. Identifying infected trees early and preventing the human-caused spread of the fungus is the focus of management efforts on Maui.
The species of Ceratocystis fungi that cause Rapid ʻŌhiʻa Death has since been recognized as two distinct species; Ceratocystis huliohia (ROD canker disease) and C. lukuohia (ROD wilt disease), with significantly different pathologies – although both ultimately lead to tree mortality.
In Hawaiʻi:
Maui: The Department of Land and Natural Resources use helicopters to regularly survey to detect ROD on East and West Maui. The Maui Invasive Species Committee follows up on community reports of ʻōhiʻa with symptoms of ROD. Hundreds of samples have been collected and only a single tree has been found to be affected. The tree was destroyed in July of 2019.
Oʻahu: Several trees affected by the Ceratocystis have been detected in forested and urban areas.
Kauaʻi: both strains of Ceratocystis fungi which cause Rapid ʻŌhiʻa Death have been detected on the island of Kauai
Hawaiʻi Island: Hundreds of thousands of ʻōhiʻa have died from this fungus on Hawaiʻi Island alone.
Don't confuse with:
ʻŌhiʻa rust: Also known as myrtle rust or guava rust, the leaf fungus Austropuccinia psidii, causes yellow and orange spots on the leaves of ʻōhiʻa and other related myrtle family trees. Different strains of the fungus are virulent on different tree species. In severe cases, the host tree suffers repeat defoliations and is eventually killed.
Other causes of ʻōhiʻa death – drought, herbicide damage, injury from landscaping tools like weed trimmers can kill ʻōhiʻa trees.
For more information, see: