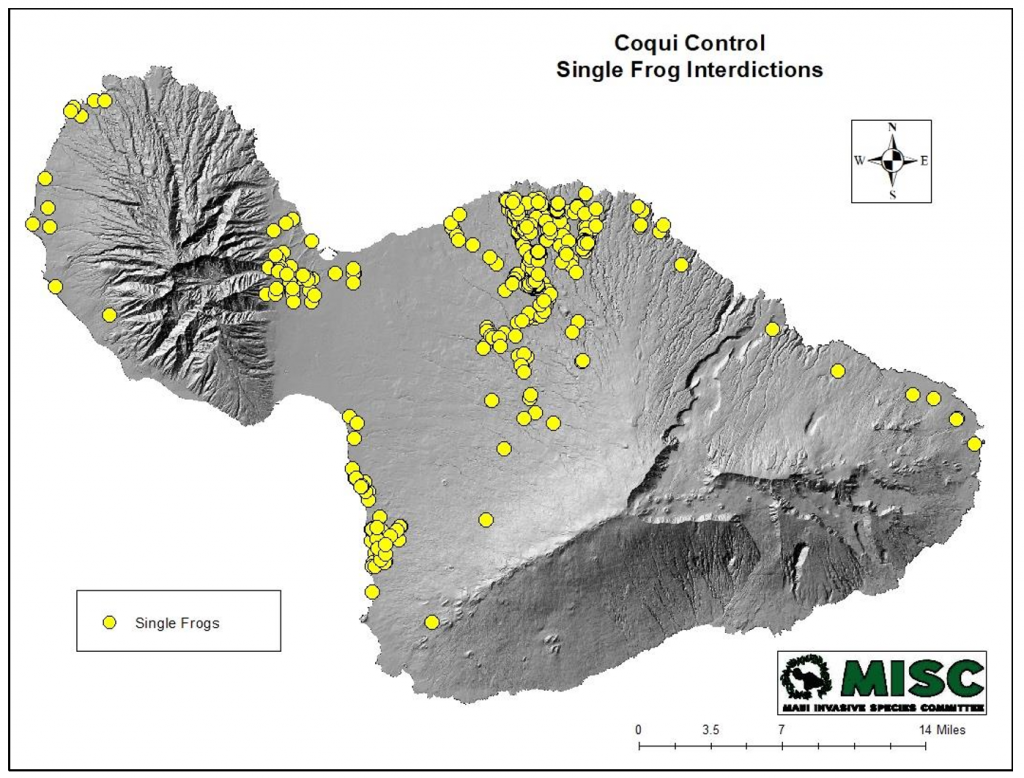 By using the online coqui report form, you are helping us work as efficiently as possible. That being said, MISC receives many coqui reports and we may not be able to respond immediately.  Particularly during this time, as our work around homes and in neighborhoods is affected by the global pandemic, COVID-19.
If you are able to assist us further, we welcome your help! Here are some suggestions:
Pinpoint and mark the frog's location. Male frogs often return to the same place to call, night after night. But they don't always call.  If you can locate their perch, the crew can catch or spray even if they are not calling. Marking their hiding place with flagging is especially helpful.
Catch the frog yourself. With a little patience, you can capture the frog yourself. MISC uses a dilute solution of food-grade citric acid and water to control coqui. If you would like training on using citric acid to control coqui frogs and free citric delivery, let us know. Please contact Susan Frett at 808.633.6646 or Abe Vandenberg at 808.269.0535 to make arrangements.
Make your yard less frog-friendly. If you live in an area where coqui frogs are present, getting rid of the overgrown vegetation can make your yard much quieter.
Work with your neighbors. As the front line of the coqui infestation spread east from Maliko gulch into Haiku, we've partnered with neighborhoods. These communities have taken up the charge of eliminating coqui within their own backyards and help their neighbors do the same. If you are interested in beginning a program in your neighborhood, contact the MISC Community Engagement Coordinator, Susan Frett at 808.633.6646, skfrett@hawaii.edu
Continue to report coqui frogs
By taking action in your backyard, you are contributing to coqui free neighborhoods and freeing up the coqui crew to focus their efforts in gulches and cliff faces.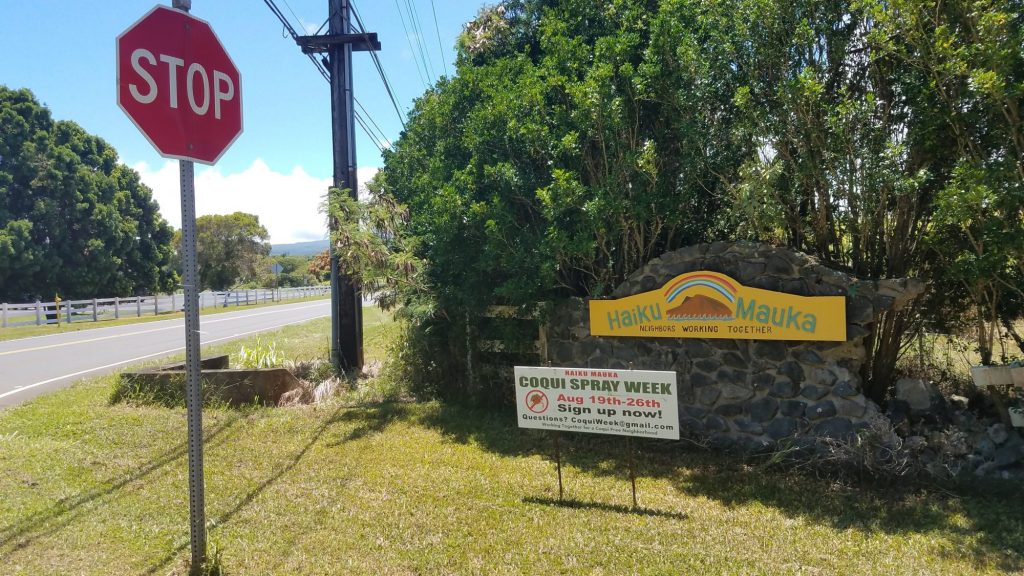 Mahalo nui!
If you have additional questions about MISC's efforts to control coqui on Maui, contact the coqui crew coordinator, Abe Vandenberg, at 808.269.0535
MISC Coqui Strategy:
MISC approaches coqui control similar to how wildland firefighters contain a fire – establishing control lines around the perimeter and focusing on the hot spots (the areas where coqui are spreading fastest) and outliers. Gulches are hot spots, accelerating the spread of the frogs by funneling coqui to uninfested areas.
Hitting hot spots in wild, overgrown areas and steep gulches is incredibly challenging. To spray these hard-to-reach places the crew installs a network of PVC pipes in the gulch.
This allows the crew to use both pumps and gravity-fed systems originating from a tank of citric farther away. Then the crew "plugs in" fire hoses at stations built into the PVC system, enabling the crew to effectively target the frog populations in hard-to-access areas.
These techniques work. MISC has eliminated 22 populations of coqui frogs (five or more calling males) across Maui and there are currently 9 active sites. MISC has slowed the spread from the gulch while keeping the rest of Maui from being affected; hundreds of single frogs have been caught all over the island.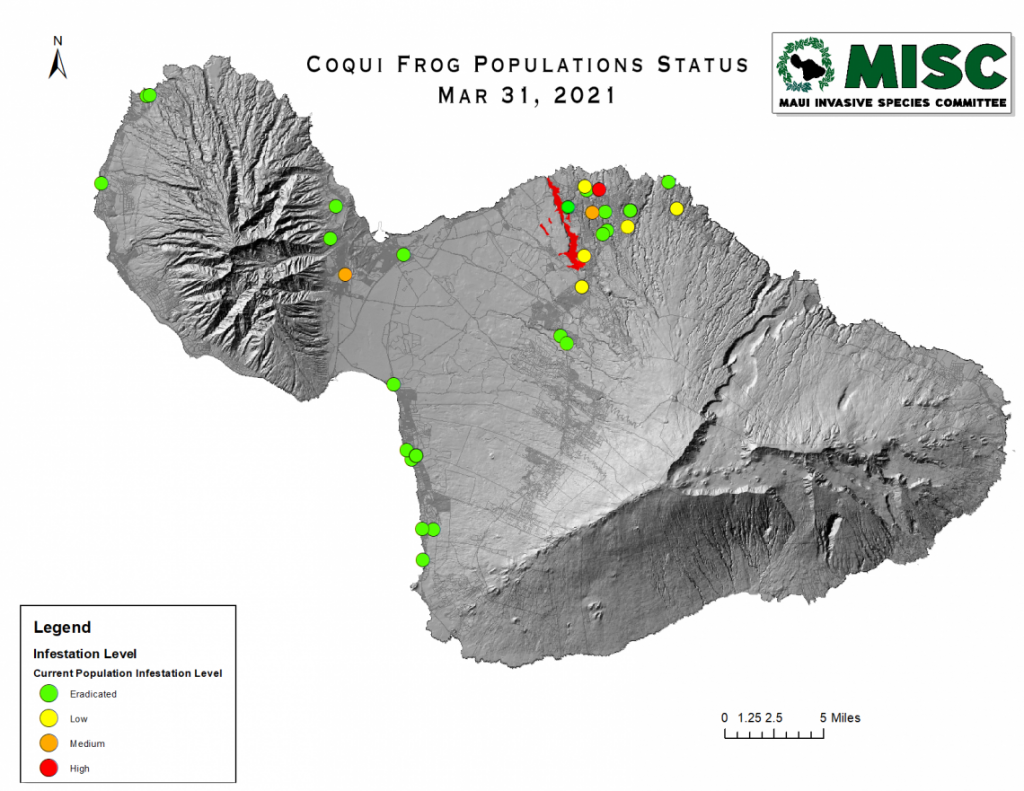 It's not just coqui:
The Maui Invasive Species Committee (MISC) works on 30+ invasive species across Maui County, including plants, ants, and plant diseases. We couldn't do any of this without a supportive community helping us find pests. Mahalo nui.