Video Above: See what the crew's day can be like and learn about the larger environmental context
Are You?
Fun & Cooperative,
Hard-Working,
Adventurous,
Reliable,
an Effective & Quality Communicator?
Do You?
Have High Integrity,
Have a Healthy Mindset,
Have Physical Endurance,
Care About the Environment,
Enjoy Working Long Hours on Your Feet,
Like Working in the Dark, During Variable Weather Conditions?
Gain valuable field experience in the Maui conservation community!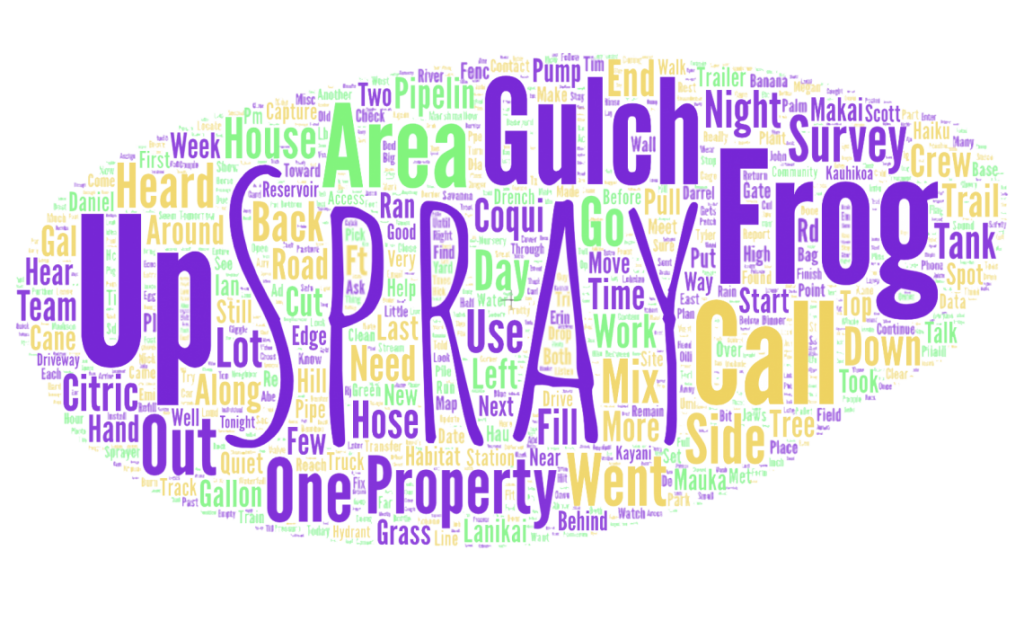 The Maui Invasive Species Committee is hiring:
full-time temporary field positions for the coqui crew
positions are five-month temporary hires with the possibility of permanent positions in the future.
This crew works out of our Old Maui High field station on Holomua Rd. The work shift is from 1:00 pm to 11:30 pm Monday through Thursday during the summer months and 12:00 pm to 10:30 during winter. Shifts can vary depending on operational needs.
Starting salary is $17.30/hour. Work involves mixing 50 lb bags of citric acid into a 14% solution, weed eating and mowing to remove coqui habitat, hiking in rough terrain while carrying heavy fire hose to spray coqui frog infested areas, and maintaining detailed records including GIS.
Applicants must have a current driver's license and high school diploma or GED equivalent. This is an ongoing recruitment.  If you have any questions about the position, contact Megan Archibald, Coqui Coordinator (808) 633-1203 or meganpa@hawaii.edu