Click this link for a PDF version of the newsletter: 2012 MISC Newsletter Kia'i i na Moku o Maui Nui



In this issue:
Moeana's Message―What Tahiti Can Teach us about Little Fire Ants
"This place used to be paradise" said Moeana Besa. Find out what happened.
On Page 1
Fire at the Farm
How Christina Chang helped stop the establishment of the little fire ant on Maui.
On Page 3
On the Job
Where can you find a snake handler, exploratory entomologist, educator, advocate, law enforcer, pesticide applicator examiner, irrigation specialist, and ant wrangler? Try the Hawaii Department of Agriculture.
On Page 5
New Science
Paintball guns,  scuba tanks, and spacklers—the promising new techniques for treating little fire ants.
On Page 6 (check out the video of the spackler in action!)
Tiny Ants, Huge Nuisance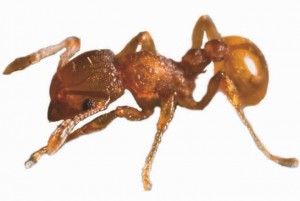 Learn more about the little fire ant and why this wee creature is such a big problem
On Page 6
Education Saves the Day!
How a class visit led to the detection of the little fire ant on Maui.
On Page 9
Dauntless Darrell
The keen eye of Darrell Aquino, pig hunter and dedicated MISC employee.
On Page 10
PLUS:
MISCommunication-The Comics of Brooke Mahnken
Managers Corner
Is that fire ant Little? Tropical? or Red Imported? Dr. MISCellaneous knows the difference!