By December 3rd of this year (2019), near the end of the shipping season, 93,000 Christmas trees had arrived in Hawaiʻi – this according to Chris Kishimoto, Oʻahu-based entomologist with the Hawaiʻi Department of Agriculture (HDOA). The trees will be adorned with ornaments and sheltering packages in time for Christmas, but the preparations to ensure the trees are not harboring unwanted pests began months earlier.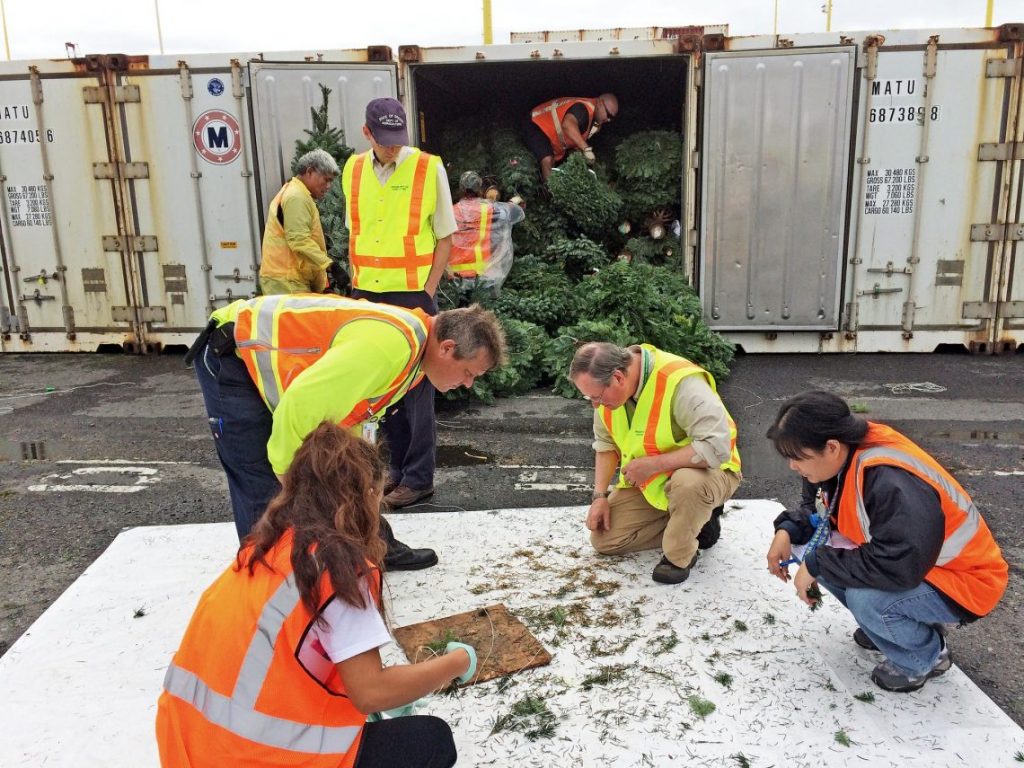 Most of the Christmas trees imported to Hawaiʻi come from farms in Oregon, with the remainder coming from Washington State. As fall starts to sweep the mainland, Kishimoto reaches out to the Christmas tree growers to get weather reports from the area – a long, extended summer or a cool and frosty fall. This helps him to determine how active potential hitchhiking pests may be before the trees are harvested. Inspectors from the Oregon Department of Agriculture (ODA) and Washington State Department of Agriculture (WSDA) inspect trees that are vigorously shaken over a light-colored barrier such as a white tarp or sheet, looking for pests before they are loaded into containers. The trees are then carried by train to California and loaded onto barges destined for Hawaiʻi.
Every year, in the weeks before Christmas, an average of 160-180 containers of trees arrive after a two to three week voyage. All containers arrive in Honolulu where Kishimoto and HDOA inspectors inspect the trees again. Once a container is opened, HDOA inspectors will check for proper paperwork and ensure there are no apparent signs of a pest infestation. They will then randomly select trees from each container, unwrap them, and gives each tree a vigorous shake over white tarps for the second time. If what falls out should not be in Hawaiʻi, the container is quarantined until the importer can have all trees subjected to an appropriate treatment, shipped out of the State, or destroyed. If no pests are detected and everything is in compliance, the containers are released and sent to their final destinations.
At the end of the shipping season, Kishimoto talks with his colleagues at ODA and WSDA to relay the various species that HDOA intercepted. If needed, the ODA, WSDA, and the Christmas tree industry revise practices and standards based on the feedback.
The best decoration for your home regardless of the time of year is the locally-sourced option. Local purchases support local farmers; the material is fresh– therefore, longer-lasting—and won't be carrying a pest new to Hawaiʻi. There are locally grown options for Christmas trees on Maui  –  both from a Christmas tree farm in Kula as well as volunteer options to remove invasive pines. And if you do find that your holiday decorations come bearing unwanted presents, capture the pest and report it, either through the statewide pest hotline: 643-PEST (7378), online: 643PEST.org, or the Maui Plant Quarantine Office at (808) 872-3848.
Lissa Strohecker is the public relations and education specialist for the Maui Invasive Species Committee. She holds a biological sciences degree from Montana State University. Kia'i Moku, "Guarding the Island," is prepared by the Maui Invasive Species Committee to provide information on protecting the island from invasive plants and animals that can threaten the island's environment, economy, and quality of life.
This article was originally published in the Maui News on December 14th, 2019 as part of the Kia'i Moku Column from the Maui Invasive Species Committee.
Read more Kiaʻi Moku articles.