The Kamehameha butterfly, the state insect of Hawaiʻi, is found nowhere else in the world and neither is the plant that feeds and supports the caterpillars as they develop into adults. Māmaki is the main host for this native butterfly, and supports other rare forest inhabitants such as the udea moth, happy-faced spider, and various species of Hawaiian tree snails. Māmaki is also an important food source for the endangered ʻalalā (Hawaiian crow).
A member of the nettle family (Urticaceae), māmaki lacks the stinging hairs of its continental cousins. Māmaki tea is revered as a general health tonic and has become a popular local product. Traditionally, Hawaiians have many uses for māmaki. The wood is used to make clubs and kapa beaters (iʻe kuku), and the inner bark is beaten to make a fine quality kapa. The fruits, seeds, leaves, and bark are used medicinally during pregnancy, for healing sores and wounds, as a mild laxative, and more.
Māmakiʻs importance to native animals and Hawaiian culture is undeniable, so when a host of invasive species targeting it began to appear, conservationists, cultural practitioners, and community members sounded the alarm. You can help. Here are three invasive species that are threatening māmaki:
Ramie Moth
Originally discovered in 2018 in Olowalu Valley, the ramie moth's presence on Maui (and now Hawaiʻi Island) represent the first record of this species in the United States. The larvae can grow up to ten centimeters in length are a vibrant yellow and black with bright orange-red spots, a black head, and thin white hairs. They may be seen feeding on a māmaki plant next to the larvae of the native Kamehameha butterfly, which do not have bright red spots on their side and possess thick, short spines on their bodies as opposed to the thin, long white hair of ramie moth larvae. Unlike the Kamehameha butterfly larvae, ramie moth larvae are aggressive, and if threatened, will rear up their head, thrash around, and even hiss and spit. If left unmanaged, ramie moth larvae will completely strip māmaki leaves, leaving only the thick veins of the plant behind. Ramie moths and their larvae have been observed in forests, residential areas, and are now being observed in commercial māmaki farms.
Māmaki Rust
Māmaki rust (Pucciniastrum boehmeriae) was first discovered on Hawaiʻi Island in 2013. The rust attacks māmaki and other members of the Urticaceae family by causing the leaves to drop early. Since the initial discovery, surveys at nurseries and botanical gardens throughout the state found no other cases, however, the rust is widespread in the Waiʻanae mountains and especially affects ōpuhe, another member of the native nettle family. At this time, māmaki rust has not been found on Maui and cases should be reported if encountered.
Polyphagous Shothole Borer
This tiny beetle is a little more than half the length of a grain of rice and has a reciprocol relationship with a fungus that it carries on its body. The polyphagous shot hole borer, or PSHB, damages māmaki by boring tunnels into the plant's bark to farm its fungus food source. Although known to frequent over 30 other plant species, in Hawaiʻi, PSHB seems to prefer māmaki and ōpuhe, both members of the nettle family. Although little is still known about this beetle, it seems to prefer mamaki that are injured, reducing the plants chance of recovery by attacking it. Only documented on Hawaiʻi Island and Oʻahu, PSHB are difficult to spot and capture, but can be detected by the sawdust like frass it leaves at the base of the tree or the tubes outside of its tunnels. They sometimes come out of their tunnels in the afternoon and, if spotted, should be quickly captured for identification.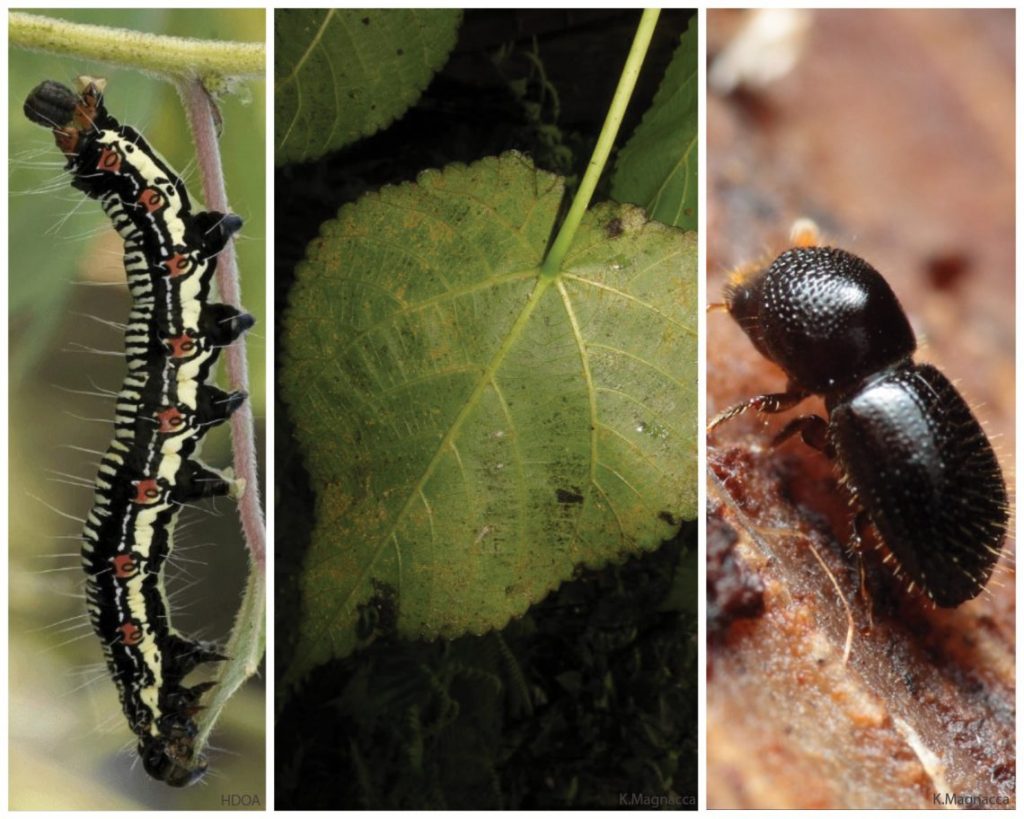 With the eyes and ears of our community, we can all protect Hawaiʻi from invasive species. Kilo (observe) the māmaki plants you frequent, whether they are in your backyard or along a favorite hiking trail, and report any suspicious pests to www.643pest.org.
Serena Fukushima is the Public Relations and Education Specialist for the Maui Invasive Species Committee. She holds a bachelor's degree in environmental studies and a graduate degree in education from the University of Hawaii at Manoa. "Kiaʻi Moku, Guarding the Island" is written by the Maui Invasive Species Committee to provide information on protecting the island from invasive plants and animals that threaten our islands' environment, economy and quality of life.
This article was originally published in the Maui News on May 8, 2021 as part of the Kia'i Moku Column from the Maui Invasive Species Committee.
Read more Kiaʻi Moku articles.