You may be holding a cup of it now as you read this. Warm and comforting, coffee is the fuel for many facing an early morning or a much-needed pick me up. In the United States, coffee is the most commonly consumed beverage (more than tap water!) and percolates more than $200 billion into the United States economy. Hawaiʻi is the largest producer of coffee in the country, with over 1,400 coffee farms statewide. It is the second-highest value crop, contributing nearly $150 million annually to the economy of the Aloha State. The Kona Typica variety of coffee, primarily grown in the Kona region of Hawaiʻi island is world-renowned. Maui also contributes to the Hawaiʻi coffee industry, with over 1,000 acres in active production and the second greatest number of coffee farmers in the state.
 A fungus that has been spreading and threatening the global coffee industry has now arrived on our shores. Coffee leaf rust (Hemileia vastatrix) is the most destructive and economically devastating disease of coffee worldwide. It was first discovered in Africa in 1861 and has slowly spread throughout coffee-growing regions worldwide. In October 2020, a Haʻikū coffee farmer reported suspicious orange spots on their coffee leaves. The Hawaiʻi Department of Agriculture (HDOA) soon confirmed it as Hawaiʻi's first case of coffee leaf rust. It is now found island-wide on Maui and confirmed on Oʻahu, Lānaʻi, and Hawaiʻi Island. Kauaʻi has had no reported findings to date*.
Coffee leaf rust spores spread quickly on the wind and can also be easily moved by humans. An infected plant will display irregular-shaped, yellowish spots on the surfaces of the leaves. Underneath the leaves, there may be powdery spores, yellow to orange in color. The fungus usually appears on the lower leaves and slowly moves up the tree. Infected leaves die and drop, which can inevitably reduce production and, in severe cases, kill the tree as it becomes unable to photosynthesize.
Maintaining healthy plants and good sanitation practices are integral in managing coffee rust. Gerry Ross, President of the Maui Coffee Association and farmer at Kūpaʻa Farms, discovered coffee leaf rust on his trees shortly after its arrival to Maui. "We are vigilant in observing all of our crops and caught coffee leaf rust on our trees early," Ross says, "Maintaining tree health is key. We have an active pruning program to prevent the spread of the fungus and use organic fungicide sprays to manage it."
Pruning, using fungicide sprays, and controlling weeds around the base of coffee trees are some methods of control. Still, wild coffee has also proven to be a host susceptible to this pest. Ross sees a silver lining though, "Wild coffee that dies from coffee leaf rust would reduce habitat for coffee berry borer, hopefully bringing its populations down." The coffee berry borer is an invasive beetle that arrived to Hawaiʻi in 2010. It bores into coffee beans and can ruin entire harvests if left unchecked.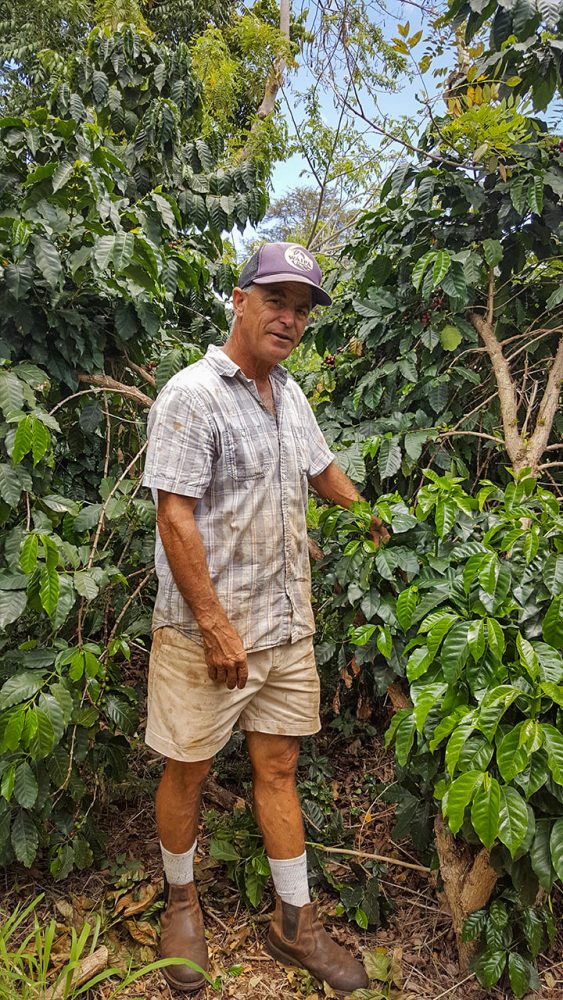 Long-term plans are in motion to further combat coffee leaf rust. Research in Hawaiʻi is currently underway on coffee leaf rust-resistant cultivars; however, it may take some time to import, breed and multiply new coffee varieties for that superior cup of Hawaiʻi-grown joe.
Slowing the human spread of coffee leaf rust is possible through proper sanitation measures. Aut Fleming, Noxious Weed Specialist with Mauiʻs HDOA Plant Pest Control Branch, recommends decontaminating after being in areas with coffee leaf rust. "If you are visiting, working on, or touring coffee farms, make sure to decontaminate with at least 70% alcohol or a 10% bleach and water solution. If you think you have come into contact with coffee leaf rust, wash your clothing, footwear, and any other gear that may have been in contact with it. Use laundry detergent and hot water, and dry on high heat." Fleming also encourages reporting suspect coffee leaf rust and following proper disposal procedures.
Although this new pest is daunting, people like Gerry have hope, "Farmers are resilient. We will find a way to adapt. It's not game over."
To learn more about coffee leaf rust and how to report it, visit this online resource created by Andrea Kawabata, Assistant Extension Agent with the College of Tropical Agriculture and Human Resources: www.hawaiicoffeeed.com/
*Update: As of July 21, 2021, coffee leaf rust has been detected on all major Hawaiian Islands.
Serena Fukushima is the Public Relations and Education Specialist for the Maui Invasive Species Committee. She holds a bachelor's degree in environmental studies and a graduate degree in education from the University of Hawaii at Manoa. "Kiaʻi Moku, Guarding the Island" is written by the Maui Invasive Species Committee to provide information on protecting the island from invasive plants and animals that threaten our islands' environment, economy and quality of life.
This article was originally published in the Maui News on July 10, 2021 as part of the Kia'i Moku Column from the Maui Invasive Species Committee.
Read more Kiaʻi Moku articles.