It's a familiar feeling many of us have experienced. You may have been picnicking in a park, loading up a surfboard, or walking your dog when OUCH! The sensation between fire and an electric shock move slowly up your leg. You look down and see them. Fire ants. A familiar yet frightening sight, yet are all fire ants in Hawaiʻi alike?
Hawaiʻi has no native ant species. Since humans first began to inhabit the islands (and bring cargo), over 60 species of ants have hitchhiked here. One of the most common and notorious is the tropical fire ant. With a native range from the southern U.S. to South America, tropical fire ants were first documented in Hawaiʻi as early as 1879. These small red ants are now commonly found on every major Hawaiian island. Ground-nesting, they prefer dry, sunny locations and are right at home in beach parks, lawns, fields, driveways, and dirt roads. When a human foot or leg disturbs their nest, they attack – and they pack a punch and immediately start hurting. Because these ants live only on the ground, stings are almost always found on the victim's feet and legs.
Fire ants are not all the same. Relatively new to Hawaiʻi, the little fire ant (Wasmannia auropunctata) usually stick to humid and shady locations: think dense foliage and rainy or irrigated areas. Tropical fire ants are on the ground, whereas little fire ants (LFA) can live in brush and treetops. They don't have a good grip, so if you brush against an infested plant (or it's a windy day), they can rain down on you, stinging your neck and falling down your shirt and on your arms, leaving painful rash like wounds that become increasingly itchy and swollen over time.
Size is one of the best ways to tell what type of fire ant you may have encountered. Tropical fire ants are giant compared to LFA, and TFA moves quickly and aggressively, making them easy to see with the naked eye. LFA are slow and sloth-like and extremely tiny. You most likely will feel their sting without even seeing them! Don't let their size fool you, though- these tiny terrors have an enormous impact, affecting our economy, health, environment, cultural practices, and quality of life.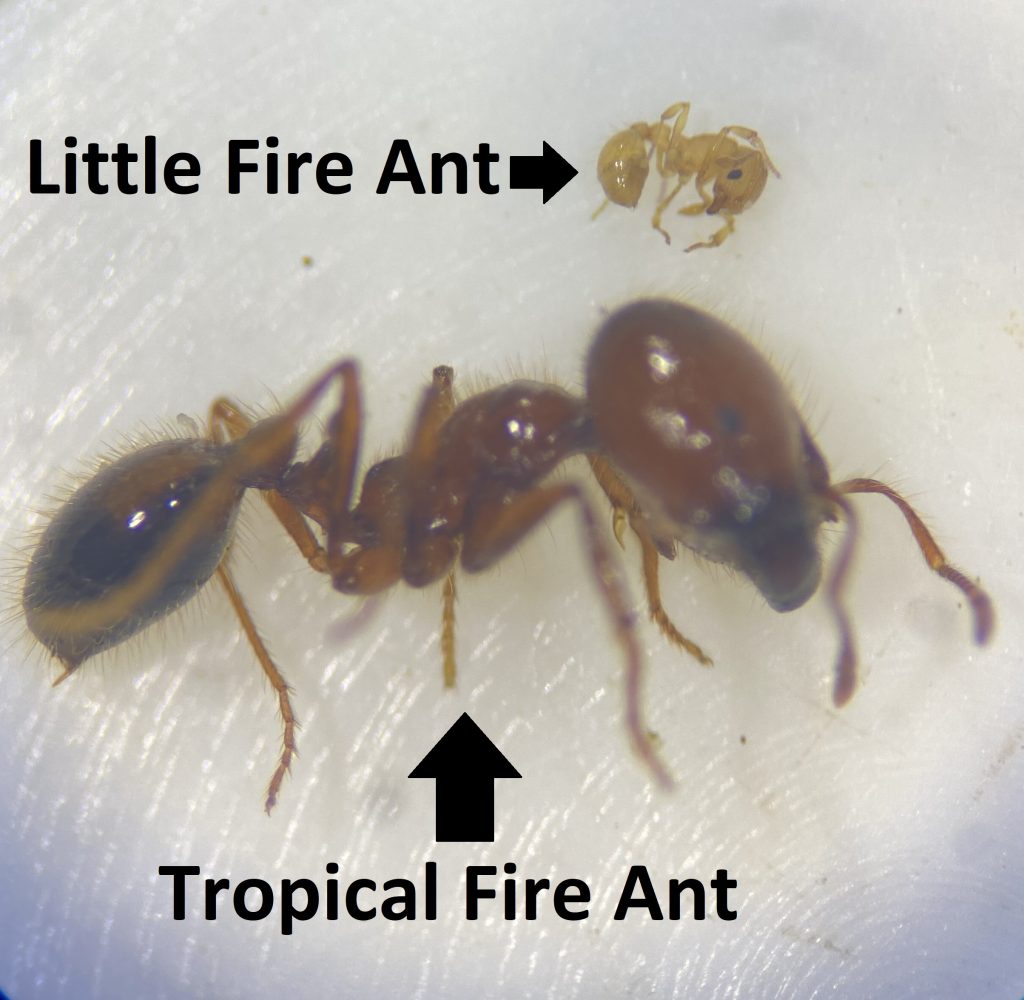 LFA were first detected outside of Hilo in the 1990s, then spread throughout the state, first reaching Maui in 2009. The Hawaiʻi Department of Agriculture, Hawaiʻi Ant Lab, and Invasive Species Committees endeavor to stop the spread of these pests, and solicit help from the community in these efforts. In fact, 12 out of the 18 known little fire ant populations on Maui were detected by members of the public.
Maui Invasive Species Committee (MISC) and the Hawaiʻi Department of Agriculture are working to prevent little fire ants from establishing a permanent foothold on Maui. Monte Tudor-Long, Little Fire Ant Crew Leader with MISC, feels hopeful. "Our control methods are working, and we are proud to say that we have declared several little fire ant populations on Maui eradicated, and those undergoing treatment are showing positive results. But we need the public's continued help to detect these pests early." Research and efforts by the Hawaiʻi Ant Lab, based on Hawaiʻi Island, has led to the development of new control methods and tools.
Tudor-Long says that it's important to collect any stinging ants, even if they might be tropical fire ants. By doing so, you can help detect any new populations of LFA or prevent new invasive ants like the Red Imported Fire Ant, a notoriously invasive tropical fire ant lookalike not known to be in Hawaiʻi yet.
Collecting ants is simple "All you need is some peanut butter and a chopstick. Smear the bait on your stick, leave it in a shady place, and check back on it in an hour. If there are any ants on the stick, send them to us!", Tudor-Long encourages. On Maui, MISC will identify your ants and let you know if you indeed have LFA and then help, free of charge. Don't have LFA? Your ant sample will still help by contributing to understanding what ants are present in Hawaiʻi's environment.
October's Stop the Ant Month is a state-wide campaign that brings awareness to little fire ants and encourages the public to test for ants in the backyards. You can request a test kit at www.stoptheant.org. Throughout the month, kits will also be available at local libraries, garden stores, veterinary clinics, and farmstands in Maui Nui.
Serena Fukushima is the Public Relations and Education Specialist for the Maui Invasive Species Committee. She holds a bachelor's degree in environmental studies and a graduate degree in education from the University of Hawaii at Manoa. "Kiaʻi Moku, Guarding the Island" is written by the Maui Invasive Species Committee to provide information on protecting the island from invasive plants and animals that threaten our islands' environment, economy and quality of life.
This article was originally published in the Maui News on October 9, 2021 as part of the Kia'i Moku Column from the Maui Invasive Species Committee.
Read more Kiaʻi Moku articles.