The MISC Community Coqui Control Program expanded during November 2020 with the addition of the Akoa/Ala Olu/Makaio neighborhood. Five Ha'ikū neighborhoods are now participating in the community program. MISC also began offering community spray nights to groups of six or fewer residents. To get involved in community efforts, fill out this form: https://bit.ly/Community-Coqui-Control-Signup or call us: 808-573-MISC (6472).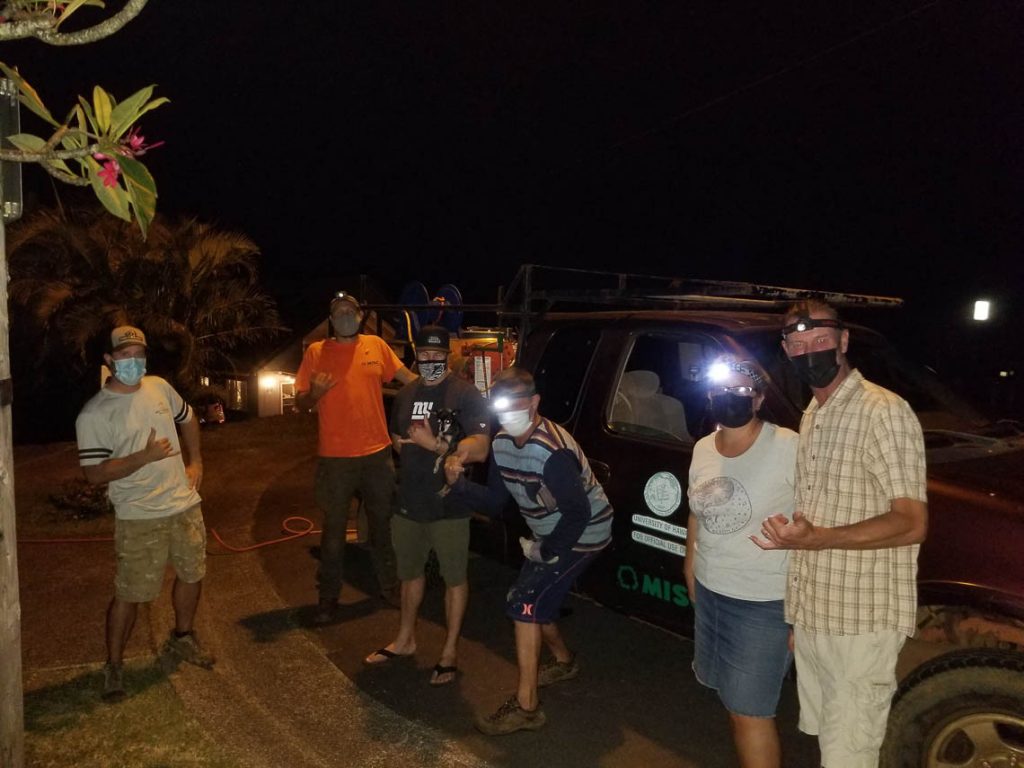 On November 19th, we held the first (online) meeting of the community coqui control advisory group. Participants included community leaders from four of the five neighborhood groups, plus a community leader not currently involved in the program. It was an excellent opportunity to bring the leaders from the different communities together and get their feedback. Terry Tolman from the Lower Kokomo neighborhood said that the coqui spray weeks "are like a barn raising with the community working together." John Phelps raised concerns about potential impacts to the program if the pandemic affects funding. Interestingly, nearly all of the community leaders have no coqui frogs on their properties yet put in many hours of effort to control coqui in their neighborhoods. Mahalo to all of the participants in our community coqui control advisory group!
Five neighborhood groups are now participating in community-based control: Haʻikū Hill, Haʻikū Mauka, Haʻikū Makai, Lower Kokomo, and the Akoa/Ala Olu/Makaio neighborhood. The Akoa/Ala Olu/Makaio neighborhood held their first community spray week during the second week of November with eight residents participating. We hope more people will get involved as they become aware of the program. Mahalo to Bonnie and Bill Prucha for spreading the word about the program and taking charge to spray coqui around the neighborhood!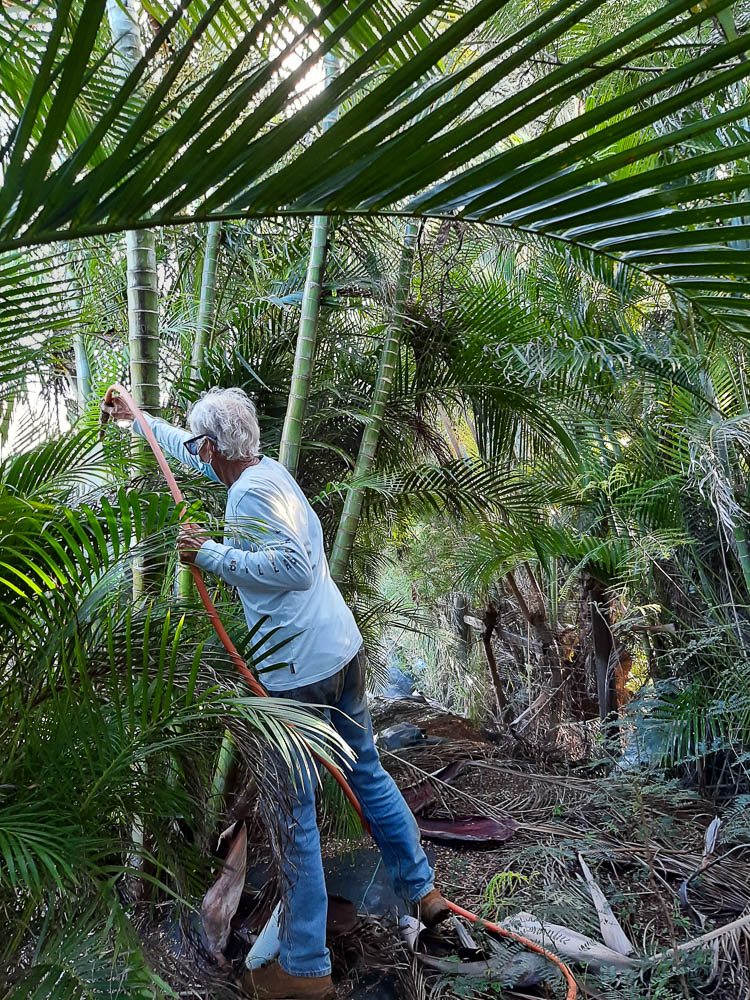 We held eight community spray weeks and three community spray nights during the fourth quarter of 2020. According to John Phelps, the captain of the Haʻikū Hill neighborhood, "Spraying each month has reduced the number of frogs on each property from hundreds to only a handful." Community participants contributed at least 140 hours of active spraying and many hours of handling logistics, including contacting neighbors, picking up and returning equipment, and other behind-the-scenes activities. Community participants sprayed 14,255 gallons of 14% citric acid solution between October and December.
We are now offering the program to micro-neighborhoods, small groups of six or fewer neighbors working together. MISC staff provide the sprayer and training and then assist with efforts as needed. We started working with three of these micro-neighborhoods in 2020. One community person handles the logistics of rallying neighbors to participate. We will continue to work on a six-week recurring schedule and look forward to expanding this option to more areas.
The community coqui control program has grown to three staff: a coordinator and 1.5 FTE liaisons, with the addition of Carl Schwarz as a full-time position. This increased capacity is allowing us to offer the program to more residents. The community coqui control program works closely with the larger coqui crew, which mix and deliver the citric acid solution to reservoirs staged in the neighborhoods. They also drop off equipment and treat areas that are inaccessible to community participants.
Community participants received over 930 pounds of powdered citric acid through our no-contact powdered citric delivery program. Participants performed coqui control activities on 96 properties; if you need citric acid for coqui control on your own property, let us know through this form (https://bit.ly/Coqui-Maui-Public-Report-Form).
Removing frog-friendly habitat is a key element of coqui control and proper disposal of green waste helps prevent the spread of coqui frogs (and other invasive species). Through our partnership with Maui Disposal, we provided free green waste bins to the Lower Kokomo and Haiku Makai community coqui control neighborhoods. More than 5.5 tons of green waste were removed under this program!
You can find all past updates here: UPDATES
Other species updates from this quarter are below: