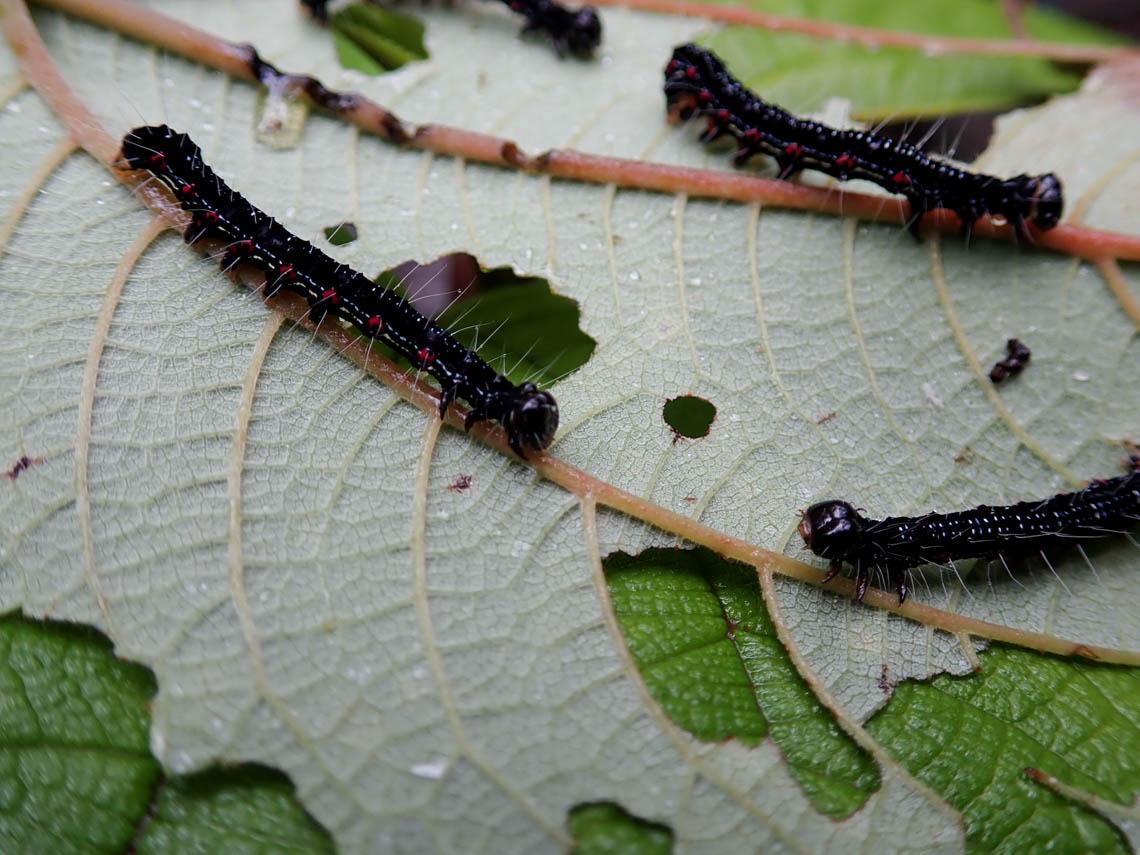 Last October, Keahi Bustamente was looking for rare snails in Olowalu Valley when he noticed a māmaki plant showing signs that something had been eating it. A quick look revealed the culprit was a black caterpillar. He plucked the unfamiliar insect in hopes he had found something new – perhaps a native species. Bustamente is an invertebrate biologist with the Pacific Cooperative Studies Unit. He works with the Department of Land and Natural Resources and spends his days scouring the forests for native land snails.
He couldn't identify the larva and started asking colleagues on Maui and Oʻahu. An entomologist on Oʻahu guessed that it was from a ramie moth, never before found in Hawaiʻi, but to confirm the identification, Bustamente had to raise the caterpillar to the adult moth stage. A brown and black moth with a 3-inch wingspan emerged – it was indeed the ramie moth.
This new moth, Arcte coerula, is native to the Philippines and dines on plants in the nettle family (Urticaceae). The moth is large and a strong flyer, but it most likely arrives on our shores as a hitchhiker. Uninvited, this interloper is now munching its way through māmaki in our forests.
Māmaki is traditionally used in Hawaiian culture for medicinal tea and cordage. Increasing interest in the plant has led it being grown commercially for tea. In the forest, māmaki serves to stabilize streambanks. Māmaki supports over a dozen species of native insects, including leaf miners, moths, and beetles, and the Kamehameha Butterfly, which is reliant on māmaki.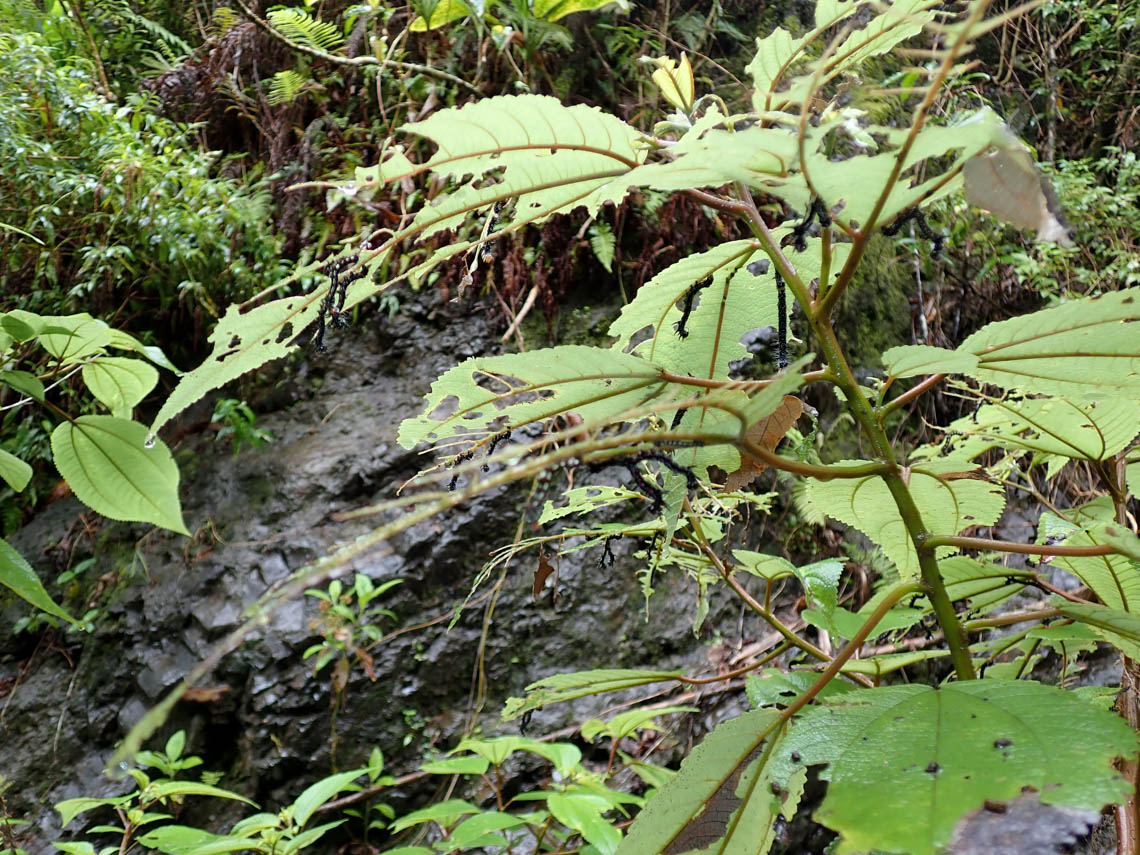 It's not just māmaki that is at risk. The caterpillar of the ramie moth has been found on other plants related to māmaki, including maʻaloa (Neraumdia sericea), an endangered plant on the verge of extinction.
A few weeks after the Bustamente found the caterpillar in Olowalu, a native-plant grower reported finding it in Olinda and ʻUlupalakua; sightings from Waiehu, ʻĪao Valley and the mountains of West Maui soon followed. It quickly became apparent that the ramie moth was already too widespread to be removed from Maui.
The ramie moth is only the latest in a host of pest insects. Every year, over a dozen new insects arrive in Hawaiʻi. Some turn out to be serious invaders forever altering life in the islands. Little fire ants, coconut rhinoceros beetle, varroa mite, coffee berry borer, and naio thrip are recent examples. These troublemakers threaten native plants and animals, the function of our environment, our relationship with nature. Once established, they impact cultural practices, recreation and the livelihoods of the residents of Hawaiʻi, jeopardizing tourism and agriculture.
"At any point, some new plant or animal can come in and forever change Hawaiian ecosystems in a way we can never recover," says Bustamente.
The arrival of yet another pest highlights the need for increased prevention efforts. The Hawaiʻi Invasive Species Council in cooperation with state and federal agencies developed the Hawaiʻi Interagency Biosecurity Plan. The plan lays out specific steps needed to improve biosecurity in Hawaiʻi. The plan needs legislative support and funding to be implemented.
It's still too early to tell what the impacts of the ramie moth will be, but Bustamente and others are concerned. "The caterpillar can hammer a māmaki plant," says Bustamente, who has found over 100 individuals on a single plant. Even though it's unlikely all will survive to adulthood, it's during their caterpillar stage that they damage māmaki.
If you have māmaki or other nettle-family plants in your yard, be alert to the threat of the ramie moth. Look for a black caterpillar (sometimes yellow) with bright orange spots and white hairs. Be careful not to confuse the ramie moth with the native Kamehameha caterpillar. The Kamehameha caterpillar is green for most of its life but is black immediately after hatching. The behavior differs as well – the ramie moth caterpillar rears up and spits to defend itself. Report sightings to the statewide pest hotline, either by phone: 643-6245 or online: 643PEST.org. You can learn more about plans to improve Hawaiʻiʻs protection against the arrival of new pests at the Hawaiʻi Invasive Species Council's website: https://dlnr.hawaii.gov/hisc/plans/hibp/
Lissa Strohecker is the public relations and education specialist for the Maui Invasive Species Committee. She holds a biological sciences degree from Montana State University. Kia'i Moku, "Guarding the Island," is prepared by the Maui Invasive Species Committee to provide information on protecting the island from invasive plants and animals that can threaten the island's environment, economy, and quality of life.
This article was originally published in the Maui News on July 13th, 2019 as part of the Kia'i Moku Column from the Maui Invasive Species Committee.
Read more Kiaʻi Moku articles.