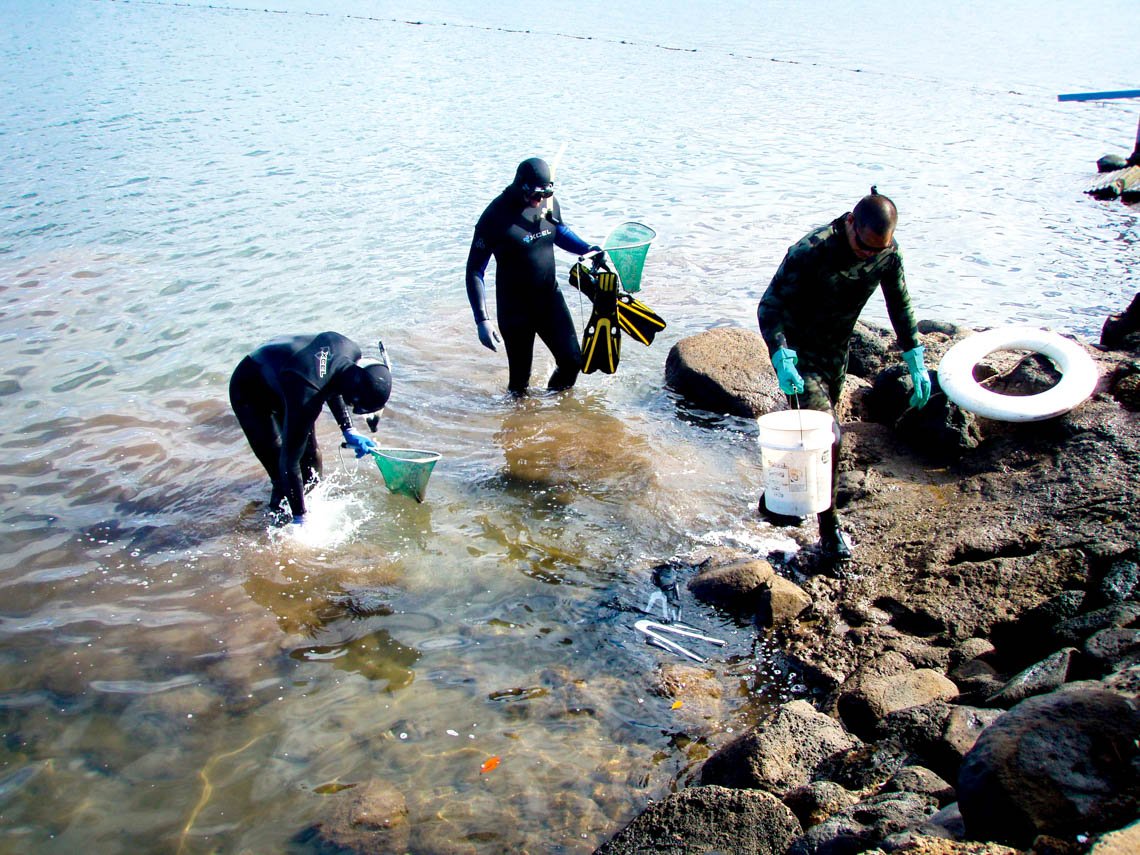 The Molokai Crew at MoMISC has been working hard to continue their surveys for early detection species including little fire ants and coconut rhinoceros beetle. Target species, rubbervine and Barbados gooseberry are on the brink of eradication with only seedlings found on recent visits.
Early Detection
Wasmannia auropunctata (little fire ants): The crew conducted LFA surveys at various ports of entry including the Kamalō and Kaunakakai Harbor areas and the Pukoʻo beach access, a port of entry commonly used for inter-island commuting by resident boaters. 
Oryctes rhinoceros (coconut rhinoceros beetle): MoMISC crew actively monitors and maintains coconut rhinoceros beetle traps at the Hoʻolehua Airport. So far, so good! No beetles were captured in traps or reported by the public. 
Priority Species-
Prosopis juliflora (long thorn kiawe): The MoMISC crew has been actively controlling the long thorn kiawe population along the remote southwest coast of Molokai. With landowner consent, the crew was able to access existing control sites where they continue to find and control new growth.
Cryptostegia Madagascariensis (rubbervine): Past and current efforts of aggressive survey and control of this species have been successful in managing and containing the spread. Crew frequently returns to past control sites to inspect for new growth and recently surveyed a swath of the southeast coastline for potential spread. In the second quarter of 2020, a total of 129 acres were surveyed and just 3 immature plants were found at an old control site! 
Cyathea Cooperi (Australian Tree Fern): In cooperation with DOFAW, the MoMISC crew surveyed 138 acres for ATF in the North Central forest area on Molokai, controlling a total of 79 ferns. 
Cassiopea Andromeda (Upside Down Jellyfish): This pest species is found at several sites along the south and south/east coast of Molokai. MoMISC routinely surveys and controls this stinging pest species at the Kaunakakai Harbor, an area of high recreational use by residents and a popular swimming area for kids. In the second quarter of 2020, 7 acres were surveyed and 31 jellyfish were controlled. 
Pereskia aculeata (Barbados gooseberry): The crew spent two days in Hālawa Valley revisiting control sites and surveying surrounding areas. This species appears to be under control with only one juvenile being found at an old site. 
Learn more about the Molokai/Maui Invasive Species Committee on their website: molokaiisc.org.
September Updates on other species here:
All Updates